Suggested Mountain Biking Itineraries
So you're thinking of coming to Tassie to do a bit of mountain biking, but just want that little bit of reassurance that you're not going to get back home and find out that you drove right past one of the best trails in the State, well here's my tips to what I'd ride depending on where I was and how long I have ... hope it helps.
Hobart (1-3 days)
So you're sitting in Hobart with a mountain bike in a bag beside you, and you want to know where to go? You have to put the Maydena Bike Park near the top of your list, and if you have access to a car seriously consider putting in a long day (4 hours drive each way) or an overnighter and get to Derby and the St Helens Trails - They really are that good, but before you head anywhere, look up: you have to head up Mt Wellington and ride the North South Track, it is the iconic ride in the south of the State, and you can have a bit of a play in the Glenorchy MTB Park where the North South trail conveniently ends. Ideally you'll find someone who will shuttle you up to the Springs (or even better the top of Mt Wellington) and then head down from there, but don't worry if that's not an option, The North South track is bi-directional so you can ride up it and then enjoy the run back down or you can head to the Springs via Waterworks Reserve and trails from there.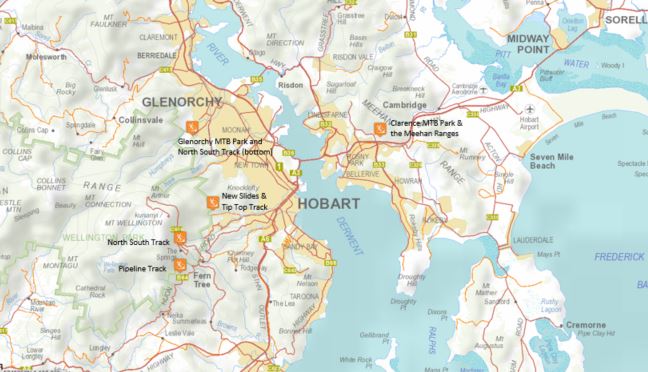 The other main trail network to try and get to is the Meehan Ranges which you'll pass on your way in from the airport. The Meehan has a network of locally and professionally built trails and now has a great jump and skills park at the main entrance.
After you've hit these trails, everything else will depend on where you are and what you like to ride. There's plenty of riding around the foothills of Mt Wellington including the Tip Top Track, New Slides and the Yellow Hippo for those looking for fun, the local trails around Knocklofty and for an easy cruise with the family the pipeline track can be a real winner. The Trailforks App will help you find these trails.
A bit further afield, the ride out to the top of Pelverata Falls is a real old school, deep rutted, bit of fun, and if you can combine it with a shuffle along the Kaoota Tramway or exploring the network of shoreline trails around Margate you'll have a lovely day.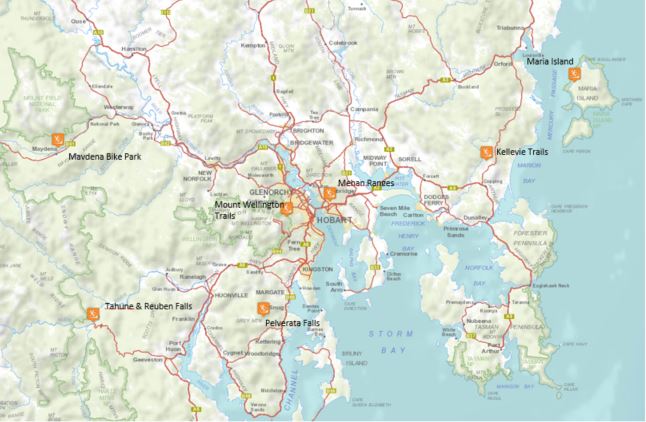 Maybe you're heading out to Port Arthur and feel like swinging off to Kellevie on the way and hitting some of the Hellfire Cup tracks. You need permission to ride in the private park itself, but there are routes in the nearby area which you can ride if you know where to look.
Heading South - a fun day can be spent exploring the roads around the Tahune Airwalk (mainly gravel roads and four wheel drive tracks) is a great one for the gravel grinders and adventure riders.
A really common question is whether there are any good mountain bike trails on Bruny Island, and the answer is unfortunately no. There's plenty of low traffic riding to be had, but all the places you may want to go riding off-road are designated for walkers only. You can check out Cycle Bruny Island hire and tours if you want to head that way.
These are all good rides and can easily fill in a few days. There's quite a few more rides on the site, but if I were prioritising that's how I'd do it.
Launceston (1-3 days)
They may be a good 90 minutes drive away, but make your first priority getting to the Blue Derby trails.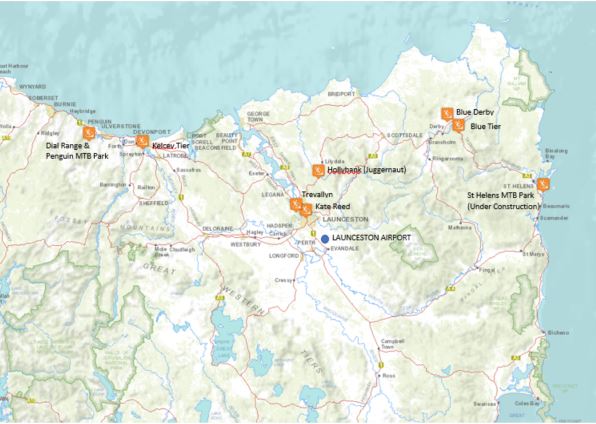 Seriously - really, really try and get to Derby, otherwise it's a bit like going to Cairo and not making the effort to get out to the pyramids.
If you can, spend a night (or two), and really explore the Blue Derby and St Helen networks. Even if you don't have a vehicle, There are now several companies that run regular shuttles out there and you can pay for a lift (and all the free advice in the world).
Closer to Launceston, there's two decent trail networks within riding distance of the CBD at Kate Reed Nature Recreation Area and Trevallyn Reserve (unfortunately it's uphill to get to both though). There's also a pretty nice network of commuter trails inside Launceston itself, which although not challenging, can make a nice way to get around.
Just out of Launceston, on the way to Lilydale, there is the Hollybank Reserve which has the 'Juggernaut' trail as well as a small network of other XC trails which when combined with a picnic or a bit of Segway or Tree Top adventure can make a great day out of Launceston.
If you happen to be heading Devonport way, the Wild Mersey Trail Network just outside of Latrobe opened in summer 2019 and has some great trails which will only get better and better as the trail fairies keep building.
A Week
If you've got a week, then you will still want to hit the same trails as above, the only question is whether you connect them via the direct A1 Highway (2.5 hours driving) between Hobart and Launceston giving you a bit more time to spend on those trails (and a few other things as well) or whether you head up via the east coast (to be honest trying to cram a west coast loop into a week with all of the above would probably be a bit too much - don't get me wrong you could).

If I had a car and a week to ride some of Tassie's best trails, I would travel Hobart to Launceston (or vice-versa) via the East Coast and enjoy some beach time and the chillaxed towns in between, maybe staying at Coles Bay, Bicheno or St Helens.

An East Coast loop could include the off-bike detour to Port Arthur picking up some trails at Lime Bay or Kellevie. You could spend a day (or two) on Maria Island doing some relaxing exploration where there are no cars but plenty of wombats and other wild animals (as well as beautiful beaches, good gravel tracks and some pretty cool colonial history).

There's some local trails in and around Coles Bay, Douglas Apsley, St Mary's, Scamander and St Helens but to be honest unless you've got a local to show you, you're not likely to find them and if you've only got 7 days - spend them at the highlights. There is a really nice old-school strava ride (The SBX-25) at Scamander which you can ride, or maybe drop into Break O'Day Cycles in St Helens and see if they can give you any pointers.


More than a week ...
So you're coming to Tassie for a ten days or more, you've got a car, and you want to know where to go.

Basically this gives you the time to do the east coast route, perhaps at a more leisurely pace, and also head out to the West Coast and North West.

The riding is a little wilder and a lot rougher out this way, and with the notable exception of the Penguin MTB Park the rides are mainly on old railways, along beaches and forestry/mining roads with maybe a little bit of single track here and there. Don't expect trail head signs (or mobile coverage) at any of these rides. It is best to download the GPS routes before you go so you can find your way onto, and along, the trails.

You could do this route in either direction, but assuming you are starting from Hobart, once you've gone past Maydena there aren't many trails worth exploring until you get over to the West Coast. The rides described on tassietrails.org at Lake King William and National Park are nice rides, but as a short-stay visitor I'd recommend keeping the bike in the car and enjoying the sites on foot at Lake St Clair, Nelson Falls and Queenstown and leave the biking for elsewhere.

Once on the West Coast, riding along Ocean Beach can be one of the most amazing experiences you'll have in Tasmania (particularly if you pick the direction with the wind blowing behind you). The easiest route is to follow the old route of Day 4 of Wildside which heads out of Strahan to Ocean Beach on the C350 and then along the beach (south) to Hells Gates and back along the road (and some old forestry trails if you can find the way) to Strahan. A more adventurous option is to head north of Strahan to Henty River and explore the amazing trails that head out to the beach and around Henty Dunes. The trails aren't easy to find and the ride isn't for the inexperienced. It's also only possible on wider tyres or with a god dose of walking. It's fat bike heaven.

Further north in Zeehan you can ride out to the Spray Tunnel and return via the new dedicated Oonah Hill MTB trail, go for an amazing (and usually very muddy ride) to Montezuma Falls along the old railway line, or head down to the coastal town of Trial Harbour and test yourself on Climies track. All of these routes are old tracks and tramways, and you will get wet, muddy and there could be snakes or unexpected drop offs around any corner.

The Sterling Valley track, between Tullah and Rosebery is another testing track which many would identify as the highlight on the West Coast, but hit it on the wrong day and you could just spend your whole ride lifting your bikes over downed trees and branches.

There aren't any accessible mountain bike trails around Cradle Mountain (all the trails used for Wildside were on private land or mining leases in this area) and to be honest, if you get out here then go for a walk - you'll enjoy it more.

There are some amazing and remote adventures to be had on a bicycle on the far North West coast (Tarkine area), but be warned that there are significant sections of the coast which require permission to enter and you are best to talk to the local parks rangers before planning any trips in this area. It really is for experienced adventure riders only.

Once you get up onto the north coast, the Dial range, which includes the Penguin MTB Park, is the area to head to for the best riding. Penguin MTB Park is unique in the state with some amazing man made jumps and features. There is also the growing Warawee (Wild Meresy) trail network just south of Latrobe which you should definitely add to your list.

There are also a few downhill tracks at Paloona and Wilmot (hard to find if you don't know where you're going) and some other local trails listed on tassietrails.org, but the key ones are those listed above.


King Island
I love King Island and I've taken my road touring bike there on one visit and spent a few days riding around. It is a vert flat island, which makes the cycling pleasant, but it's not ideally set up for cycle touring with only one road heading north leading to a long out and back. There are some nice (day) circuits you can do down in the southern parks of the island.

You'll want to take everything you need with you because if something goes wrong you'll be on your own.

The locals however are incredibly friendly, and I fondly recall cycling out of the airport and having someone stop and offer to take my backpack to my accommodation, which I gratefully accepted. It was only after they took off with my by backpack that I realised that my laptop and wallet were both in my bag.

They were still sitting there in the bag when I got to my hotel.

I flew in to King Island via Melbourne (Hobart => Melbourne => King Island) and had no problems getting my bike there in a bike bag. That was a long time ago though.


Flinders Island
I've been to Flinders Island several times for work, and even spent three weeks kayaking it's coastline, but I confess I've never cycled here. I do know a few people who have and they've loved it (other than the smell of dead wallabies on the side of the road). There's plenty of quiet places on the coastline that you can pull over and free camp, there's friendly locals, a decent enough network of roads and good food in the main town.

You could probably ride around Flinders Island in a few days, but if you did I don't think it would be worth the trip. Its more somewhere to come and spend a week or two slowly, very slowly, exploring it's nooks and crannies.

You can fly to Flinders Island from Launceston with a bike (but you need to let the airline know in advance). There use to be the option of taking it across on the weekly boat that departed from Bridport, but I don't know if that still runs.


Fatbiking Fun
I have two fat-bikes and Tassie has some great coastal offerings for riding them.

The far North West (around Arthur River) and the West Coast (from Strahan north) offer great opportunities for fat biking, but they just add to the fun, you can ride most of these routes with good 2.4" tyres.

During winter, if we get a bit of snow, fat biking the trails around the back of Mt Wellington and up on Snug Tiers (Pelverata Falls) can be great fun.


On-Road Touring
If you've come to Tasmania for an on-road bicycle, then go in search of the the "Giro" or "Mini Giro" route listed over on Bicycle Network Tasmania's website. These routes have been put together by local riders I know and respect and they'll give you a pretty good idea where to start.

Tourism Tasmania have also put out a guide for cycle touring in the State. I'm not a huge fan of the publication, but it is a useful resource to give you some ideas.

East Coast or West Coast? That's a good question. As far as I can tell most commercial cycle tours in the State follow some variant of a route from Launceston out towards Scottsdale and St Helens and then down the East Coast to Hobart. Having said that Lonely Planet lists the West Coast of Tasmania as one of the best cycling routes. They're very different experiences, with the East Coast offering more sun and beaches and coastline and the West Coast more mountains, wild weather and old mining towns. Whichever one of those appeals is where you should head.



Best Singletrack
Blue Derby & St Helens Trail Networks
Maydena MTB Park
North South track
Other good singletrack areas
Meehan Ranges (including Clarence MTB Park)
Kellevie
Kate Reed and Trevallyn NRA
Penguin MTB Park
Wild Mersey (Warrawee) Trail Network
Gravity / All Mountain Riding
Maydena MTB Park
Blue Derby (Atlas / Big Chook / Blue Tier Descent)
Dial Range
Meehan Ranges
North South Track (combined with Tip Top or other options)
Hollybank (Juggernaut)
Most challenging ascents
Most remote rides
All West Coast rides
Wolfram Mines (now closed to cyclists)
Lake Spicer
Lake King William
Family Rides
Pipeline track
Clarence Foreshore Ride
Hobart Cycleway (Mona)
Low Head Lighthouse
Launceston Trails
North East Railway
Railton-Sheffields Railway
Downhill Tracks
Glenorchy Mountain Bike Park
The Lea
Paloona
Wilmot
Tasmanian Cycling Laws