Lime Bay
Hot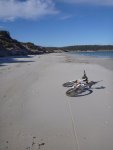 Key Statistics
Last Visited
July 24, 2011
Land Tenure
Historic Site
State Reserve
The Lime Bay Nature Reserve doesn't get a lot of visitors, but contains a surprisingly large network of  trails linking together some beautiful beaches and lagoons with some great convict history thrown in to boot.  These trails provides excellent riding options for both the family through to the hardcore cyclist looking for a hard workout along some tough sandy trails.  The route described here tries to get you around to most of the best spots in the park, but the reserve is compact enough that you can just go out  there, point your wheel down a trail and go and explore.
GETTING THERE
>It's just over 100kms from Hobart to the start of this ride, and it takes about 90 minutes to get there.  From Hobart head out over the Tasman Bridge, through Sorell and down towards Port Arthur.  About 82km from Hobart (60km from Sorell) turn right onto the B37 signed to Koonya.  Proceed just over 9kms to Premaydena  (there's a small store here) and turn right towards Saltwater River and Lime Bay.  A further 9.4kms along this road, turn right again onto Coal Mine Road, and proceed a further 2.3kms to the Coal Mines Historic site Car Park.
ROUTE OPTIONS
The route described here will be enjoyed most by moderately fit, intermediate riders.

If you're just looking for an easy, family rides that young kids will enjoy, consider continuing on to the Lime Bay Campground (at the end of the road) and just cycling out, and along, Lagoon Beach, before circling back behind the beach and around Sloping Lagoon and back to the carpark the way you came.  Approx 8kms.

It is also possible to enter or exit this network of tracks by coming in along Sloping Main Beach on the west side of the peninsula, which also allows a bigger circuit to be undertaken.
 WARNINGS
Whilst most of the tracks are open 4WD tracks and firetrails, some are quite narrow and overgrown, or cross soft sand and some very slippery downed trees so be careful.  Also when riding along beaches be particularly aware that birds may be breeding.  If you see any, then either get off your bike and slowly go around them, or turn around and explore alternative trails.

As you are in a State Reserve in sometimes fragile environments (eg. around the lagoons) with walkers, birdlife and of course convict heritage sites be particularly respectful of our right to be there and don't stuff it up for everyone else.  There are some tracks out there (eg. The Cardwell Ridge track) which are signed private property, so respect that and stick to legal tracks.
ROUTE DESCRIPTION
From the southern end of the carpark, head into the Cole Mines Historic Site along the gravel trail.  You basically want to follow this gravel path down around the old site and along the shoreline to Plunkett Point, but feel free to jump off the bike and have a bit of an explore around the old ruins.  Obviously don't ride your bike through here though.

From the ruins, the path heads down to near the water, and then runs above the shoreline to Plunkett Point (1km) where there are further interpretative signs of the area.  There's one or two tracks that head off to the left on the way to Plunkett Point, but just ignore these.

At Plunkett Point you will come out into an open area with short tracks heading down onto the shoreline and out to the point itself.  Once you've had a look around, take the single track that continues along the shoreline.  You will pass an old building on your right, which the track continues past on its way to an old quarry which is now filled with water (1.8km).

The track can be a bit tricky to follow here, but essentially follow a  narrow track inland as it goes around behind the waterhole and then you should see some ribbons heading pretty much directly inland, carry and push you bike this way for only a short distance before the track becomes more obvious again and you can remount and ride.

This next section is quite narrow with lots of branches and logs, but it can be a bit of fun and allows you to see Plunkett Point without backtracking.  You will soon drop out onto a firetrail (2.3km).  The track does continue on the other side of the firebreak, but is too overgrown to make it worth following on a bike.  Instead, it is worth the short detour (turn right) to head down to the little headland from where there is a short walk (100 metres) to the north to a lovely little beach which you can have all to yours.

Once you've been down here, retrace your steps back up the firetrail and follow it out onto the main road (3.4km).  Cross the main road and continue around the gate and up the firetrail.  You'll come to a very steep little hill, and once you crest this you'll see a major track coming in from the left (4.1km)  Just past this track you'll need to look out for an indistinct 4WD track heading off to the right, which you want to jump onto.

This is a little 600m detour (1.2km return) which will take you to the top of Mount Stewart from where you get the best views of the peninsula and also get to explore some old ruins up on top.  It has the added bonus that whilst the last 200 metres will probably involve a steep push up, it's a great ride back down.

After returning to the main fire trail, turn right and continue along for some enjoyable riding.  The track turns to the right about 500 metres from this junction, and soon after you'll see an enticing track heading off to your left with a private property sign above it (sigh).  Continue instead straight down the hill until you come to a T Junction (7.2km ) turn left (the right turn just drops you back out onto the road, and is a possible exit point) and continue along this fun flat section until you come to another T Junction (8.5km).  Turn right and follow this down, through a muddy open area and some lovely forest until you emerge out into the open grasslands surrounding Sloping Lagoon.

There are a few starts to this track, but basically you want to follow the track that runs through the dunes directly behind the beach and not be enticed too early inland.   If you go inland too early, you will quickly come back out at Sloping Lagoon, so just turn around and try again.  At the end of the beach, the track does swing inland and it is an easy, flat ride out to Lagoon Beach.  Just before Lagoon Beach (13.3km) you will see a track heading off to your left.  You can poke your nose down here, to find yourself at the other end of Sloping Lagoon, however the more enjoyable option is to continue out along the track until you hit the soft dune area behind the beach, and then carry or push your bike down onto the beach.

This is a lovely beach to just kick back on, and I found it fairly easy riding.  You basically just want to turn left and cycle down to the very end of the beach.  The dunes were quite washed out when I was there, but down at the end I was able to carry my bike up an obvious rock and then follow an initially indistinct track up the gully where I quickly emerged onto a 4WD track.  A few hundred metres along this track, you'll come to a junction (14.8km).  If you continue straight ahead along this track it will drop you back out at Sloping Lagoon and from there it is easy to cycle back along behind the beach and retrace your route to Lime Bay, and this is a good option for those just wanting a shorter ride.  We turn right here however, and then right again 100 metres down the track.

Follow this track past a turn off on your left (you will return here) down to Lobster Point (16.0km).  There is supposed to be a walking track from here around to Sloping Main Beach though I was unable to find it.  It is however a nice place to explore the cliffs and look out to Sloping Island.  Be very careful around these cliffs though as many are undercut.  Once you've had your fill of here, retrace your steps back to the last junction, turn right and start climbing back up to the top of Cardwell Ridge.

About 1km from this junction you will come to another 3 way junction, turn left here and pass through a beautiful but short grassy section before coming to yet another T Junction, you could just turn left here, but those looking for a bit more of a ride should turn right and enjoy the fun ride back down the ridge, ignoring the turn offs to the left and right to emerge at a small lookout over Sloping Main beach (18.7km).

You can get down to this beach by following the track off to your left just before you got to the lookout, and it would then be possible to push (and perhaps ride) your bike along this beach to emerge out at Gwandalan which is a small shack community and from there cycle back along the road to where you left the car.

However, to keep exploring the trails, backtrack the way you came about 300 metres and then turn up the left fork and follow this back up the hill (it's mostly rideable) to re-emerge back out at where you were at the 17.5km point.  Turn right, go through the grassy area again but this time turn left at the T Junction and descend off the ridge on the other side.

You'll pass one of the other junctions you came in down the bottom of this hill and find yourself back in familiar trails as you follow the trail back out to the eastern end of Sloping Lagoon.  From here however, instead of following the tree line, head straight ahead across the grassy area towards a clump of trees a few hundred metres in front of you, once you approach these trees you will see an obvious 4WD track which you follow back out to the Lime Bay campsite (22.0km).

Head through the campsite again, pretty much keeping the coast on your left until you come to a fenced off revegetation area.  Following this fence will lead you onto another overgrown 4WD trail which follows along behind the beach.  Jump on this and follow it to the far end of the beach.

At about KM 23.0 (700 metres from the start of the beach) you need to look for a trail fork to your right which you need to jump onto.  If you find yourself still riding straight ahead, with the beach behind you, then you've gone too far.  The right fork climbs up for about 700 metres (in distance, not height), and then opens out a bit and begins descending.

You'll cross a major firebreak (24.5km) and then a further 500 metres along you'll emerge out onto the main gravel road (25km), turn left and follow this gravel road downhill, past the original fire trail you rode in on (25.7km) and then at a major fork in the road (25.9km) turn left and follow the road down to the car park at its end.  This is an alternative entrance to the Coal Mines Historic Site, so head around the gate and just keep following the path and you'll soon find yourself on familiar tracks around the initial ruins which you can just follow back to your car.

NB.  Just before you get to the alternative entrance car park, you'll see a walking track heading up to actual Coal Mines.  You could push your bike up here for a bit of a look, and then head down the other side, otherwise you could just drive up here once you've got back to your car.
Map
Editor review
Scenic/cultural/historical value
3.5
User reviews
Scenic/cultural/historical value
Scenic/cultural/historical value
4.0
Great track notes, thanks.
Scenic ride with plenty of route options. Only got around about half of what is described this time, so I'll be back for more another day.
Review
Would you recommend?

{{#ratings}}
{{#editor}}
{{/editor}} {{#user}}
{{/user}}
{{/ratings}}
{{title}}
{{#ownerCreatedBlock}}
{{#owner}}
{{#url}} {{#avatarSrc}} {{/avatarSrc}} {{^avatarSrc}} {{& avatar}} {{/avatarSrc}} {{name}} {{/url}} {{^url}} {{#avatar}} {{& avatar}} {{/avatar}} {{name}} {{/url}}
{{/owner}} {{#created}}

{{created}}

{{/created}}
{{/ownerCreatedBlock}} {{#category}}
Category:
{{category.title}}
{{/category}}
{{#fields}}
{{#showLabel}}
{{label}}:
{{/showLabel}}
{{& text}}
{{/fields}}