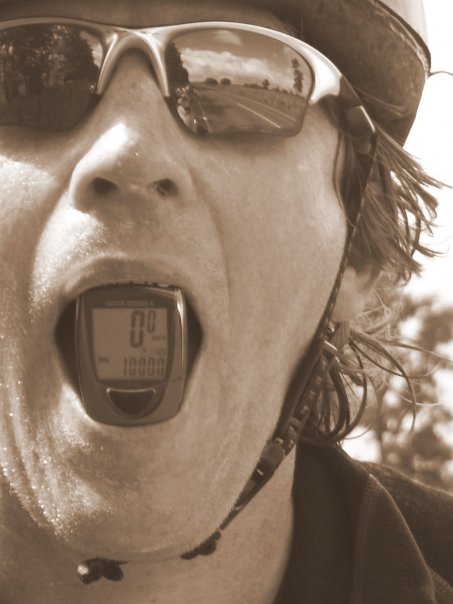 I´m Tasmanian and that probably explains a lot. I also love to travel and explore, particularly by bike ...
I´ve somehow survived cycling through Europe, New Zealand, South Africa, South America, the USA and even Vietnam. OK, Vietnam was a cycling story without a bike and a clear demonstration of why, if you should ever be tempted, you shouldn't play touch football on an icy oval 30 minutes before the sun rises on a cold Tasmanian morning two days before heading off on an overseas holiday.
Back here in Tassie, I spend as much time as I can exploring (or re-exploring) new trails by bike, boot or boat. That is I love most forms of cycling, bushwalking and sea kayaking.
If you're interested in any of this stuff, then feel free to go and read either my old travelblog which covers much of my South American and European adventures, or my current blog which records my adventures since 2011.
So, I set this site up when I broke my knee in early 2011 and was told by a doctor that I wouldn't walk or ride a bike for at least six months and I needed something to do to stop myself going insane.
It's a site initially dedicated to providing information on Tasmania's mountain biking opportunities, with plans to also extend it to road biking, bushwalking, kayaking and even pack-rafting (my latest hobby) as time allows.
There's no plans to charge for access to the site, I just set it up because I found there wasn't a lot of specific information out there on mountain biking trails and thought I'd try and fix that. I have listed other useful information resources on this page.
If you appreciate the information that is available, then please become involved, register on the site and leave your feedback and comments on those rides you have done. Beyond that if you think there are other rides out there that should be on the site, then let me know about them and if I know the ride then I'll do my best to get them up here.
Also, I belive strongly in the IMBA Mountain Bike Rules of the Trail, so if you find any route here that crosses private land, or which shouldn't be on this site please let me know and I'll remove it. I do what research I can on ride routes, but no one's perfect ... least of all me.
I also manage the Tasmanian Sea Canoeing Club and Rogaining Tasmania's websites.