Trevallyn Nature Recreation Area
Trevallyn Nature Recreation Area
Hot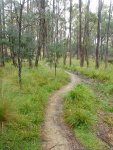 Key Statistics
Distance
16km (out and back)
Last Visited
June 08, 2013
Hidden away in the hills above Launceston, The Trevallyn Nature Recreation Area now has one of the newest and nicest sections of purpose built single track in Tasmania.   With 8kms of dedicated single track stretching from the Gorge Road to the Hoo Hoo hut, this is where you're inevitably going to start any play in the park, however if you're a little more adventurous and have a little more time, then don't overlook the other multiple use trails in the reserve.  There's kilometres of trails out there for those looking for a more old school Tasmanian experience.
GETTING THERE
You can start this ride from either end of the trail, but most riders seem to hit the trails from the turn off onto Duck Reach Road which sort of puts you in the middle with lots of options of where to go.

From central Launceston, you want to make your way onto Patterson street which takes you past Penny Royal and the bottom of the cataract gorge walk up into Trevallyn. If coming into Launceston from the Southern Outlet, you need to turn onto York Street, and then take the first right onto Margaret Street. At the end of Margaret Street turn left onto Patterson Street. You can't get onto Patterson street directly from the A3.

Once onto Patterson street, just follow it across the gorge bridge (reset your odometer here if you want distances) and then at the second roundabout 1.2km past the bridge, you will see signs to the Trevallyn Nature Recreation Area and the Cable Hang Gliding. You can now just follow these signs to the reserve, but essentially you will take the second exit out of the roundabout onto Bald Hill Road, then the second left onto Veulalee Avenue (again signed to the Cable Hang Gliding) and then at the top of this road, left again onto Reatta Road. Just keep following this road up, up and up. You will go under some power lines near the top (this is an alternate entrance to the reserve) before entering the reserve. Drive past the archery site on your left and continue down taking the turn off to the left, 4.6km from the bridge, to the Village Green.

This is Duck Reach Road and you can pull in on the left here next to the trail head sign and get ready to ride.

To get to the alternate start points, you can either continue on from the duck reach carpark onto the Village Green, which has the advantage of having public toilets. To get there just keep on driving along Duck Reach Road until the end. The track trail head (Dead Mans Knob) is well signed and starts behind the toilets.

Alternatively, back at the roundabout where you turned right off Gorge Road onto Bald Hill Rd, instead you could keep going straight through the roundabout and continue to follow Gorge Rd for another 750m from the roundabout, just after the road turns round to the left and pull into the small car park just above the road on the right. This park only has room for a few cars, but is the quickest to get to, and I kind of like it because it drops you at the bottom of the trails which means more downhill on the way back to the car.

For those unfamiliar with Launceston, it's very easy to get onto the West Tamar Highway (A7) instead of Trevallyn Road when leaving the city. If this happens, don't panic, just continue 3.1kms past the bridge and then turn left onto Pamona road. Just follow this road up and around to the left as it becomes Pitt Road and then Reatta Road which you can follow as per the instructions above to Duck Reach and the Village Green (Hoo Hoo Hut).
FACILITIES
There are toilets and picnic facilities at the Village Green.
ROUTE OPTIONS
Assuming a start at the Duck Reach Rd turnoff, you can head either back down towards Gorge Road (6.4kms out and back) or towards the Village Green (9.6kms out and back). You can also do just one of these sections, or combine these with any of the large number of trails shown in Pink on the map below, most of which are also shown on the trail head maps in the park.

The singletrack which these notes describe is designed to be ridden in both directions, and I'd recommend heading out and back to Gorge Road first (as this has steeper sections in it) and then out towards the Village Green (which has the advantage that you can cut the return trip short by following the pink trails back along the road if you're tired).

If you're more into loops, and like technical riding, and I mean really like technical riding. You could think about heading back to Duck Reach from the Gorge Road via the Upper Gorge Fire Trail which is a rocky, steep and challenging descent down onto the Reedy Gully Firetrail which you can just follow back to your car.

From the other end (Village Green), there's also a trail (although it can be hard to find at first) on the eastern side of the road which parallels the road back to your car.

As you get to know the area you'll find plenty of riding options to explore depending on your mood.
WARNINGS
Some of these trails have needed to be temporarily closed due to extreme weather conditions in 2013.  The Tasmanian Parks and Wildlife Service encourage riders thinking about riding these trails to check out their facebook page or to contact them directly on 03 6336 5397 (open 7 days, put the number in your phone now while you're thinking about it) to find out if any trails are currently closed.  Launceston Mountain Bike Club also regularly posts trail status updates on their facebook page.  Main thing is, don't ride the trails if they're closed.  That just ruins it for the rest of us and breaks the trust we need with landowners to get more tracks built in the future.

The main section of MTB track is still used by many walkers with their dogs, kids out learning to ride and of course other mountain bikers coming in the opposite direction, so expect a surprise around every corner and ride appropriately. Fortunately most of the track has really good vision ahead so this won't slow you up too much.

The dedicated single track that this route describes has plenty of good obstacles and challenges, but it's built to be ridden and will reward good technique. The same cannot however be said of the other trails in this reserve which often have short but technical sections that are either very steep, rocky or intersected with slippery tree roots. If you're not used to this sort of riding take it easy as these can put you on the ground before you know it.

The reserve also has a few multi use horse trails, so be extra careful and polite if you get onto these, give way and say "please" and "thank you". Remember with horse riders to let them know you're coming (especially if coming up form behind) and if you can, wait for them to tell you when to go past.
ROUTE MAP
There are several good maps of the trails at the main park entrances and it is worth stopping and having a look if you're a first timer out to explore. Do note however that the yellow mountain bike trails didn't end up getting built exactly where shown on the map.

The map shows the route described here in blue, the pink trails are for those who want to go and explore.
ROUTE DESCRIPTION
To be honest the difficult part of navigating these tracks is getting onto them in the first place. After that it's easy.

From Duck Reach turnoff you'll see a fairly unspectacular little piece of single trail heading off from near the trail head sign on the Northern side of the road (ie. The side of the road you're parked on) heading towards the Village Green. Follow this and it quickly (30-50 metres) forks. The left fork will take you on the track towards Gorge Rd, the right fork heads towards the Village Green.

Almost immediately, no matter which way you go, you'll soon find yourself heading downhill on trails which were obviously built for mountain biking. If you don't find this in the first 200 metres turn around and have another look, because there are a few other old trails heading off which you could accidentally get onto.

Heading in either direction it would be very difficult to get lost, although you do cross several tracks.

The trail towards Gorge Rd is initially perfect downhill XC track with plenty of berms, humps and obstacles to keep you awake, the track then crosses Reedy Gully Fire Trail at the Archery Fire Trail intersection (0.4kms), and straightens out as it continues on its way. About 1.8kms from the start, after a bit of easy climbing, you come out under a set of power lines at the top of the hill. You could turn around here if you don't like climbs or you've got young or inexperienced riders with you, but otherwise carry on and find yourself losing 80 metres in elevation in just over a kilometre of bermed goodness.

This will drop you out into the Gorge Rd carpark (no facilities). Make sure you check which track you came off because there are a lot of trails coming together at his point, and it is easier than you think to head off on the wrong one. About 300 metres back up this track, you would have crossed the Upper Gorge Fire Trail which is an alternate return route for more advanced riders looking for a more technical challenge.

Heading towards Village Green, you'll again find yourself heading downhill for about 1.5kms, before the trail flattens and then slowly and gently twists and undulates its way up to Dead Mans Knob (7.5kms) before the final short downhill run out onto the Village Green. The climb is never that challenging and there's plenty there to keep all levels of riders entertained along the way.
KUDOS WHERE KUDOS IS DUE ...
I just wanted to take the opoprtunity to acknowledge information provided by Rob Potter as to who we shoud be thanking for the excellent trails up at Kate Reed and Trevallyn Reserve. The trails were made possible by the LMBC securing funding provided by Sport and Recreation.  Ian Smith was instrumental in the application that led to this.  Rob Potter was engaged shortly after to manage the implementation of the Strategy. This involved performing all the design over both Reserves and managing/performing construction. Construction of the trails was performed primarily by Rob Potter and Tim Dyke (who's significant machine experience was invaluable) with the assistance of Buck Gibson and Simon Curtis. Matt Patten has made valuable contributions through the latter stages of the project providing effective liaison between the LMBC, Parks and contractors. 
Map
Editor review
Scenic/cultural/historical value
3.5
Upgraded my rating to reflect the new trail in the park.
Review
Would you recommend?

User reviews
Scenic/cultural/historical value
Scenic/cultural/historical value
4.0
Review
Updates
Went here for the first time this week and loved it! I really appreciated my full suspension and grippy new tyres as there are a lot of rocky climbs and descents to keep the heart rate up and the fun factor higher.
I grew up riding the flowy natural single tracks in the Essex (UK) forests and woodlands so I always appriciate a bit of flowing XC and this place has that in spades, along with some techy sections that should keep even the most die hard rider happy.
It has a decent amount of signage so getting lost and back tracking isn't an issue, in fact once you are at a trailhead you really can't go wrong. I put together a 22.4km loop where the only trail I did twice was the Peppermint track and that was just to finish off the ride with a final easy, flowy bit of riding.
All in all I'd say it's definately worth a visit for the travelling MTB-er (I came down from Ulverstone) and I'll def be back, hope to see you there!
Would you recommend?

Scenic/cultural/historical value
3.0
Review
Updates
the trevallyn reserve is a awesome mtb park for all skill levels.
there are some new trails that follow along the road down to the hut that familys can enjoy but if your like me you will be smashing it along there and really be getting up some speed. great fun.
the big downhill trail is very rocky and sketchy in spots but still rideable and fun.
lots and lots to explore so just go for it.
awesome park because you can always keep it fresh by starting from a different point and going a different way back.

Would you recommend?

Resources
Official Site
Track closures and updates are posted here.
Other Resources
Regularly organise events on these trails.
Blogs, Articles etc.
Checking out the new trails for the first time
Trevallyn in the rain - but some nice photos.
{{#ratings}}
{{#editor}}
{{/editor}} {{#user}}
{{/user}}
{{/ratings}}
{{title}}
{{#ownerCreatedBlock}}
{{#owner}}
{{#url}} {{#avatarSrc}} {{/avatarSrc}} {{^avatarSrc}} {{& avatar}} {{/avatarSrc}} {{name}} {{/url}} {{^url}} {{#avatar}} {{& avatar}} {{/avatar}} {{name}} {{/url}}
{{/owner}} {{#created}}

{{created}}

{{/created}}
{{/ownerCreatedBlock}} {{#category}}
Category:
{{category.title}}
{{/category}}
{{#fields}}
{{#showLabel}}
{{label}}:
{{/showLabel}}
{{& text}}
{{/fields}}