Penguin MTB Park (inc. Montgomery Loop)
Penguin MTB Park (inc. Montgomery Loop)
Hot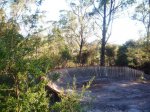 Key Statistics
Last Visited
February 26, 2020
Land Tenure
Local Government
Private Land (Access Permitted)
State Reserve
This MTB park was built by the Cradle Coast Mountain Bike Club who have the lease over the site.  There's only a few kilometres of singletrail in the park, but the trails are now being expanded up Mt Montgomery and the combination of an expanding trail network, and park features will draw you here and make you want to stay.  There is also a new skills park above the race track and some impressive jumps inside the old speedway.  There is something for the beginner through to advanced rider.
GETTING THERE
The mountain bike park is at the old Penguin Speedway site, which is on the southern (inland) side of the A1 highway, not in Penguin itself.
The easiest way to find your way there, regardless of whether you're coming from the Burnie or Ulverstone direction, is to look for the signed turnoff to the Penguin Sports Centre (I think it is signed "Regional Sports Centre" if coming from the Ulverstone direction).
Follow these signs off the highway onto South Road and to the Sports Centre itself (which is about 600 metres south of the highway turnoff). From South Road (which has actually become Dial Road) turn right into the Sports Complex (Complex Road) then just keep following this road for 900 metres as it takes you past the athletics centre on your right and to a T-junction with Ironcliffe Road (the bush you are passing on your left is the MTB Park. If the park is busy there are plenty of places to park just here on the right hand side of the road).
Turn left (up the hill) onto Ironcliffe Road and travel a further 100 metres where you will see a yellow gate and trailhead sign on your left marking the entrance to the MTB Park. There's room for a few cars to pull off here if the gate is closed, but you can generally also drive up into the reserve and park inside.
If you're already in Penguin, then from the main road running along the coast, just look out for Crescent Avenue (There's two entrances one in the middle of town and a second near the railway at the western end of town). Follow this around until you see Ironcliffe Road and turn up here. Just follow this road over the highway, past the school, and 2kms from where you turned onto it (just past the turn off on your left to the Sports Complex) you will come to the yellow gate and trail head sign.
Alternatively, for those just looking to ride the Montgomery Loop, rather than turn into the MTB Park, you can continue up Ironcliffe Road another 750 metres and turn right onto Montgomery Road.  A further 400 metres down this road you will find another car park and alternate trail head.
ROUTE OPTIONS
There are trails all over this park and to get the most out of the park it's worth printing the trail map available over on the club's website.
The trails are designed for riders to go in one direction (primarily anti-clockwise), but you'll figure it out (hint if you're riding up obviously designed drops and just seeing the back side of the signs then you're going the wrong way)
FACILITIES & SERVICES
There are no facilities at the park.  There is a small takeaway further down Ironcliffe Road and everything you need down in Penguin itself.  
The closest bike shops are in Ulverstone (http://ulverstonebicycles.com.au/) and Burnie (Leicester Cycles and Sportsworld) though I haven't been to any of these so can't vouch for them.
WARNINGS
There are some quite technical sections in this park so make your first lap an explorers lap. 
There is also lmited (but improving) signage in the park, though they have marked most of the technical drops with red arrows and there is usually an alternate beginners routes (signed with a red 'B'). However don't rely on these signs - take it easy the first time round as you get to know the park.
You can generally keep up to date with goings on on the Cradle Coast Mountain Bike club's facebook page.
DETAILED OVERVIEW
You can ride this park in several ways, but the best way to get to know the park is park in the main car park and then follow the trails around in numerical order according to the CCMBC Trail Map which you will find at the trail park or on their website.
So from the edge of the carpark follow "Start 'Em Up' back the way you came, acros the road you drove in and then up beside the Ironcille Road to the top of the race track. 
Follow this across the road and onto Easy Peasy (although note if you just want to do a shorter run you could just ride along the road to the LIttle Devils Park or head around Easy Peasy, Copperhead etc. which will cut out a lot of riding below).  For those doing the fool loop you cut off Easy Peasy onto Stalking Rooster (1.2km long) which you follow up to a dam and then back down again to the Montgomery Road trailhead for the Montgomery Loop (5.8km).
The Montgomery Loop is a clockwise circuit which climnbs for about 2kms before descending for another 3.8kms back to this trail head (note the first bit can be a little confusing but about 30 metres from the road you should come to a well signed trailed head).
Once back at the trail head follow the Return to Penguin (1.5km, a little bit of climbing initially, then a fun descent down past the NW Environment Centre and across a creek) before ascending Ringtail (0.4km), back onto Easy Peasy and then if you have the legs to keep going I'd strongly recommend continuing along Prehistoric Park (0.6km)  and then finish off with Flying in a Blue Dream (2.0km) back to your car.  Flying in a Blue Dream is where you will find most of the parks articficla features.
As you come out of Prehistoric Park, you will find yourself near a big water tank and the Little Devils skills park which is worth a play.  This is also the top of the Free Ride area.
From here it's up to you ... Repeat, or try it differently, but enjoy.
Map
Editor review
Scenic/cultural/historical value
4.0
Review
Would you recommend?

User reviews
Scenic/cultural/historical value
Scenic/cultural/historical value
3.0
Review
Updates
A year on from my first review and it's (in my opinion) a completely different story. Recent works has opened up this area and made it into a nice technical flowing loop with a bit of everything. Recent signage additions make it easy to get around and explore all of the trails on offer. Word is in the wind of a further 8.5kms being added on the other side of the hill and possibly leading to another 52km!!!! being added afterwards. My advice, go now and ride it and watch this space!???
Would you recommend?

Scenic/cultural/historical value
0.5
Review
Updates
Slow technical track with no flow and little to enjoy if you like XC trails, but considering that it's made and maintained by volunteers you can't really complain. Lots of 180°+ turns on some of the steepest parts that leave you wondering? "why?" as you have to slow to almost a stop in places. Lots of people seem to be short cutting sections and straight lining, and as a result, making new paths, which is a pity seeing as the cradle club has obviously put in a lot of time and effort to make these tracks.
Recent storms haven't helped much as some trails are blocked with fallen trees and you need to look out for the broken trunks that are at the perfect height and angle to damage your spokes or derailer. That said I'm sure after the next trail maintenance day they'll be cleared.
All up I appreciate the effort taken to make these trails but won't be heading back as I prefer flowing single track, but that's just me. If you like a bit of stop-n-go, tight turns and a few man made features, then this could be the track for you!

Would you recommend?

Scenic/cultural/historical value
1.5
Review
Updates
great little track, doesnt look like much when you get there but when u find the right way to go and do a couple laps its good fun. i like the opitions of the technical drops or the easier way. it is very tight so you might punch a few trees like i did. not a very fast track but do a couple laps and youll have fun.
Would you recommend?

Resources
Other Resources
The Cranky Penguin MTB Marathon
Blogs, Articles etc.
Discovering Penguin MTB Park
Exploring the Penguin MTB Park
A ride report from the 2013 Inaugural Cranky Penguin Race
{{#ratings}}
{{#editor}}
{{/editor}} {{#user}}
{{/user}}
{{/ratings}}
{{title}}
{{#ownerCreatedBlock}}
{{#owner}}
{{#url}} {{#avatarSrc}} {{/avatarSrc}} {{^avatarSrc}} {{& avatar}} {{/avatarSrc}} {{name}} {{/url}} {{^url}} {{#avatar}} {{& avatar}} {{/avatar}} {{name}} {{/url}}
{{/owner}} {{#created}}

{{created}}

{{/created}}
{{/ownerCreatedBlock}} {{#category}}
Category:
{{category.title}}
{{/category}}
{{#fields}}
{{#showLabel}}
{{label}}:
{{/showLabel}}
{{& text}}
{{/fields}}