Kingston - Kaoota Tramway Circuit
Kingston - Kaoota Tramway Circuit
Hot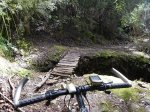 Key Statistics
Land Tenure
Local Government
Private Land (Access Permitted)
Connecting together some of the most accessible off-road riding trails around Kingston, this loop is a great way to discover some trails close to Hobart and plant the seed for further exploration.
There are plenty of great views, beautiful, quiet trails, with a bit of technical fun, and even a bit of history all thrown in. Cap this off with a great downhill run at the end to take you home.  This is one of my favourite rides close to Hobart.
MAPS
Check out the Kingborough Tracks and Trails section for some simple route guides covering the off road sections - Peter Murrell Reserve, Tramway Hill Track, Picket Hill Track, Leslie Vale Track (optional) and the Whitewater creek trail. Otherwise, just go exploring and accept you're going to take a few wrong turns.  Because, trust me – you will.
GETTING THERE
Start at the bottom of John Street, behind the Coles complex, in Kingston. There's an area beside the Channel highway where you can park all day on weekends, though on weekdays it is limited to two hours parking.
ROUTE NOTES
Quick Notes
Head up through Kingston and then towards Margate, turning left on the bike path just before the Fork in the Road roundabout.  Go through the underpass and continue down alongside Coffee Creek through Peter Murrell Reserve until you emerge onto Howden Road at the other side of the reserve.
Head on down to Margate, up Van Morey's Road, Chandlers Road and Tramway Crescent from where you'll do your second little section of off roading up the Tramway Hill Reserve. Turn right out onto Tabor's Road, then Nierinna Road turning left into Lawless Road, which will lead you onto the Kaoota Tramway track. After 6kms of off road riding here, descend down Kaoota Road and Allens Rivulet Road to Sandfly, across to Longley then up the hill to Leslie Vale and eventually Picket Hill Lookout from where you'll descend steeply down the fun and beautiful picket hill tracks emerging onto Summerleas Road, which you can then follow back to Kingston, with one last off road scoot along the whitewater creek track which will drop you very nicely back out right where you started.
Detailed Notes
The first section is on road, but it's a good chance to warm up the legs. Head up John Street, then turn right onto the main road and follow the bike lane through a roundabout. At the second roundabout (you'll see McDonalds) hike a left heading onto the Channel Highway down towards Margate. There's a reasonable bike lane all the way through here down to the "Fork in the Road" roundabout.  Just before you get to the roundabout, jump onto the obvious offroad bicycle path and follow this left down between the Antarctic Centre and Algona Road, about 2.5km from your starting point.

You'll head under the highway, then drop out onto a short bitumen road.  At the end of this road, turn left and then almost immediately right onto a small track you'll see on the other side of coffee creek.  It's not signed, but follow this trail down beside the creek and into Peter Murrell reserve. There's quite a few turn offs along here, but just follow your nose keeping the creek on your right until you drop out onto Howden Road (5.4km).

Turn right onto Howden Road, and follow it back out onto the Channel Highway (6.9km), where you turn left and follow a wide shoulder into and through Margate. Near the top of the hill in Margate (9.9km), turn right onto Van Morey's Road (there's a toilet behind the hall here) and follow Van Morey's road for 2.7km, turning right into Chandlers Road (12.6km), and not long after left again into Tramway Crescent (12.8km). Then flick down those gears and climb. At the top of this crescent (13.2km) you'll find a narrow throughway between two driveways which you may have to push up before emerging into a wide grassy area. Head straight ahead on the track which will bring you to a little shelter (13.8km) which is a nice place for a quick break and a chance to read the history of the Kaoota Tramway you're about to ride on.

From here, head out onto Tabor's Road, and turn right, being careful not to be tricked into going up Trowena Place (14.1km). Tabor's road joins Nierinna road (15.3km), where you'll turn right (heading downhill), then 300m's left into Lawless Road (15.6km) where you can once again follow your nose, down past Nierinna Creek, following the road sharp left at the chicken farm (17.0km), and continue following the road upwards until it becomes a track (17.8km).  About 2.5kms from where you turned into Nierinna Road, you should find yourself at a small four way track junction where if you explore to your left a bit you'll see the cuttings though the hill of the old tram track.

Continue straight ahead, taking the lower track to the right 50m's past this junction. You are now on the tramway track which you will follow for the next 5.6km. This track can be a bit bumpy and muddy and you're gradually climbing in this direction, but it's a lovely piece of trail with great views. Just ignore any tracks off to the left and right until you emerge into the carpark (23.7km) on Kaoota Road.
From here turn right downhill, and reap the rewards off all your climbing as you switchback your way down the hill. Careful this gravel can be a bit slippery under-wheel. Turn left when you reach the T junction into Allens Rivulet Road (26.4km).

SHORTCUT: For those feeling a bit weary at this stage, 400m past this junction, you can turn right and follow Allen's Rivulet road back to Margate (8kms) and either just follow the highway or retrace your steps to Kingston from there.

If not tacking the shortcut home, continue straight ahead until you reach Sandfly Road (29.0km) then turn left. Sandfly shop is a good place to restock on drinks if you're running low as there's still decent riding ahead, otherwise carefully cross The Huon Highway (30.1km) and continue along Sandfly road until you reach the turnoff to Fern Tree (31.3km). Turning right, settle in for a bit of a climb up to Leslie Vale Road (33.5km) where you'll again turn right and continue 2.8km to Parkdale Drive on the left.
DETOUR OPTION: For the masochists who want to get off-road trail no matter the cost, there is the option of turning off at Bullock Drive (35.6km) half way along Leslie Vale Road and following the Leslie Vale Track which will drop you back out at the far end of Leslie Vale Road (See Kingborough Map Sheets link above), but be warned my experience with this track is pushing my way through overgrown blackberry bushes, slogging through deep mud ground up by horses and grunting through knee high grass, I don't have many good memories, hence why I've skipped it for this ride.

From the Parkdale Drive Junction (36.3km) there's a bit of a climb that will see you thanking the gearing gods for granny gears (not that any of us would use those) as you climb to the Pickles Hill Lookout (37.2km) and some great views out over the Kingborough region with the added pleasure of knowing that there's an awful lot of downhill between you and your car. Enjoy the view, consider dropping your seat a bit for the descent, and continue straight ahead, but for only another 40-50metres down the other side of the hill, looking out for a greenway (grassy track) heading off the road on the right. You're now on the Picket Hill Track. Head down this, turning left at the T junction (37.4km) and then, depending on your riding skills, you'll either enjoy a nice bit of slippery descent or curse my name to whoever will listen as you push your bike down a horridly step descent.

500metres from the top of the lookout, you will emerge out onto the top of Cades Drive (37.8km). Head down here for a further 0.1km until you're just past Uplands Drive. You will see an overgrown track heading off to the left, that's your trail. After about 400m you will come out at the top of Hackford Drive (38.3km). Don't go out onto this road, instead follow the track to the right (ignoring a couple of minor tracks off to the left in the next 0.1km) and this will take you down through some lovely bushland (and one or two steep descents which can come onto you very quickly) before appearing to emerge into someone's front lawn. Just follow the track through this grassy area and you'll soon be descending again, before coming out onto the junction of Jacobson's and Hartford Drive (39.9km). Just head down the hill straight in front of you, turning right when you join Summerleas Road (40.2km). Cross the Huon Highway (41.5km) with care one more time and continue on down Summerleas Road towards Kingston. Just after the first left hand bend (42.4km) you will see the start of the Whitewater Creek Trail on the left hand side of the road. Jump onto this and enjoy this last off road section for the last 2kms which will drop you right back out at the bottom of John Street (44.4km). Of all the sections this is the one you're most likely to meet pedestrians, so travel slowly.
Map
Editor review
Scenic/cultural/historical value
3.0
User reviews
Scenic/cultural/historical value
Picket Hill via Kaoota Tramway
Scenic/cultural/historical value
3.0
Review
Updates
A very pleasant loop around Kingborough. Initially tackled to do the tramway, but found this loop includes several other pleasant, if short, trails. A real mix of riding - quiet (for the most part) bitumen roads, smooth gravel, and reasonably well groomed bush trails. Some fun downhill at the end. Much more fun than anticipated - thanks for putting this guide together!
Would you recommend?

Scenic/cultural/historical value
4.0
Thanks for the great web site and guides!
Review
Updates
A bit hit out through some great scenery, the guide is spot on. We followed both the written guide and graphic map on the iPhone as we went, worked a treat.

A solid ride, half on road, half on some great trails. Defiantly take lunch and a spare water bottle.
Would you recommend?

{{#ratings}}
{{#editor}}
{{/editor}} {{#user}}
{{/user}}
{{/ratings}}
{{title}}
{{#ownerCreatedBlock}}
{{#owner}}
{{#url}} {{#avatarSrc}} {{/avatarSrc}} {{^avatarSrc}} {{& avatar}} {{/avatarSrc}} {{name}} {{/url}} {{^url}} {{#avatar}} {{& avatar}} {{/avatar}} {{name}} {{/url}}
{{/owner}} {{#created}}

{{created}}

{{/created}}
{{/ownerCreatedBlock}} {{#category}}
Category:
{{category.title}}
{{/category}}
{{#fields}}
{{#showLabel}}
{{label}}:
{{/showLabel}}
{{& text}}
{{/fields}}