North South Track (Mt Wellington)
North South Track (Mt Wellington)
Featured
Hot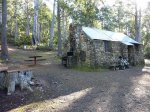 Key Statistics
Last Visited
June 12, 2022
Land Tenure
National Park, Reserve
Local Government
The North-South Track is some of Hobart's best riding, and if you're only able to ride one track on Mt Wellington, this would be a good option.
The epic way to do the North South track is to get a lift up to the Springs (there is a bus service that takes bikes) and then just enjoy the run down.  The route has a combination of twisting turns, great lines, good challenges and it's all backed up with a gorgeous riding backdrop. One minute you can be looking down over most of Hobart, the next you can feel a world away.
The route described here assumes you've got to ride up as well, so includes connecting sections to get you onto the track from the Glenorchy Mountain Bike Park and a bit of a loop down Radfords Track, which is a fun descent.
GETTING THERE
Check out the Glenorchy Mountain Bike Park Website for instructions on how to get to the northern end of the track, but essentially you travel out to Glenorchy and then onwards to Tolosa Park. Parking is at the end of the road, next to Tolosa Park. There are toilets and BBQ facilities at Tolosa Park.
If coming in from the southern end, the route to Mt Wellington is well signed. If you're unsure of the exact start of the walk, reset your cars odometer as you turnoff Fern Tree Road onto Pinnacle Road. Shoobridge Bend is 2.6kms from this turnoff, and the Springs are 4.1kms from the turnoff. Both are well signed. There are toilets and some basic BBQ facilities at the Springs.


ROUTE OPTIONS
You can access this track from either the Glenorchy Mountain Bike Park or from the Springs or Shoobridge Bend on Mt Wellington.
For those who can organise a car shuffle, a one way ride from the Springs to Glenorchy is the way to go, and this is also probably the best starting point for less experienced riders, or those with kids.
The kunyani/Mt Wellington Explorer bus will take you and your bike from Hobart's waterfront up to either the Springs or, if you want (and why wouldn't you?), all the way to the top so you can then just ride down.  This is a great option, but you do need to book and get there a bit early if you want to take your bike.  
You can also tie this ride in it with any number of the other tracks on Mt Wellington or even do a nice big circuit using the Intercity Cycleway.
WARNINGS
You never know what can be around the next corner - it's a bi-directional track and walkers also use it.  Snakes are a real issue, and there's a particular spot between the New Town Rivulet and Junction Cabin where they seem to like sunning themselves on the rocks.  Just a good reminder that even this close to a city things can go wrong, so have a phone, first aid kit and basic bit repair kit with you.
ROUTE DESCRIPTION
Starting from the Tolosa Street car park, head around the gate and up towards the Mountain Bike Park.   
The route up the North South track is now well signed (you follow the North South / Challenger Trail loops up to five ways junction where the North south trail continues off by itself).  Down in the Mountain Bike Park look for the blue arrow signs with an image that looks like a wattle flower on it.  Those are the Challenger Trail signs to follow.   
Essentially you follow the gravel track you came in on for about 500 metres past the mountain bike park and a shipping container on your left, until you will see a track coming in from both your left and right.  The start of the track is opposite the gravel road heading in from the right.  If you come to a major firetrail heading off to your left you've gone to far.  It should be well signed.
This bit of single track zig-zags you up what would otherwise be a very steep climb. You will cross two gravel roads, before being dropped out onto a trail near a five way intersection between priest and merton fire trails. Head into this intersection and then continue following the signed XC trail to Junction Cabon / Northg South track up around the side of the hill (don't be fooled onto the shorter circuit straight in front of you as you come out onto the road as this is the way you exit.  If you follow this you will just descend back down into the park and will probably curse my name many times).
You'll cross over a cool little stone bridge as you continue to sidle around the side of a hill (nice views off to your right) until you hit a big switchback.  Around 100 metres past this switchback there is a short connector heading off to your right which you want to take. This will almost immediately drop you out onto a gravel road which you continue to follow in the direction you are heading (towards the mountain) and another few hundred metres further on you'll come to one last junction where the actual North South track starts. 
From here you just follow the trail as it heads through some lovely bits of forest and over New Town Rivulet on a very cool stone bridge. Just past here you'll enter some drier forest and rocky outcrops (beware snakes sunning themselves) before crossing the Lenah Valley Track closely followed by the Lean Valley Fire Trail.  Cross straight over these tracks and continue to follow the single track as it climbs gradually upwards until you come back out onto the Lenah Valley Trail a second time just next to a creek (on your left). 
Cross this creek on the track and you'll see the trail heading back off into the bush on the left of the track you're on.   The price of a brilliant run down to come, is a continuous ride up, so just keep turning those wheels up the well graded slope and trust me, this section is one of the best on the trail and will be soooo worth it on the way back down.  Before you know it you'll have switchbacked yourself up to Junction Cabin.
Junction Cabin is always a nice spot for a rest and explore. As the name suggests there are a myriad of trails which come together at this cabin, but you won't find it hard to find the well signed trail continuing on in front of you. The next section out to the Springs is about 4kms and includes some great black diamond challenges for those who want to test themselves.  There are a couple of track intersections along the way, but just keep following the signs to the Springs.
You'll emerge out onto a small turning circle at the Springs, follow this around and out towards the main road, but look out for a small track on the right that will take you through to the main Springs Picnic area and toilets. You've climbed to about 700 metres at this point, so give yourself a pat on the back.
From here, you can either just turn tail and head back the way you've come (most of you will), or you can cross the road from the picnic shelter and search out the start of Radfords Track (a small little track heading off into the trees). For downhill enthusiasts this is a brilliant little descent (albeit that there are now lots of features to slow you down) although it is probably for intermediate plus riders (particularly the first section which is quite rocky). This track is only about 1.5kms long and will drop you back out onto Pinnacle Road (careful it is a very steep and there is a sudden drop onto the road).
All good descents come with a price - you'll have to head back up the bitumen road for about 1.3kms to shoobridge bend, where you'll be able to cut back in on the North South Trail (saving quite a bit of climbing) and then its time to start enjoying all that climbing you've done as you descend back down to Glenorchy.
Note that on the way back down, when you get back to the five ways junction, you should jump back onto the Challenger Loop XC trail and head back down that way rather than the way you came up.
Enjoy.
Map
Editor review
Scenic/cultural/historical value
3.5
User reviews
Scenic/cultural/historical value
Scenic/cultural/historical value
4.5
Overall journey was awesome, our whole team of payday loans Denver group enjoyed a lot and take backs lifetime memories. We are planning again to visit their next season.
Review
Updates
It was really fun for being theirs, especially during the cold winds and rains. I and my friends enjoyed a lot. Tracking and fire in the forest were amazing facts here especially under the stars in the night when the cold wind whispers into your ears.
Would you recommend?

Scenic/cultural/historical value
4.0
This is a favourite track for me. It offers you many things. It covers so everything. Don't worry if your a beginner because it is still extremely fun.
Review
Would you recommend?

Scenic/cultural/historical value
5.0
Review
Updates
I had a mate over from Melbourne for the weekend, and it was the perfect excuse to finally check out the North South Track. Without a doubt one of the most fun trails we've ever ridden!

As the other reviewer said, it just flows and flows. The scenery is amazing, especially coming from The Springs, everything is lush and green. This is the great thing about mountain biking, getting out in nature and losing yourself for a few hours.

There is nothing really that technical on the track, though the second last decent towards Glenorchy got a bit sketchy at times at speed, it was also one of the most fun bits.

What else to say? Ride in as soon as you can!
Would you recommend?

Scenic/cultural/historical value
4.0
One of the best trails I have ridden in years (and I've been all over). Fun, challenging without being a pain, so much variety, no boring bits. I gave it 5 stars overall because the run back from the Springs to Glenorchy just flows and flows every step of the way. So clearly designed by riders for riders. Had me laughing out loud to myself.
Take the editor's advice and ride it from Glenorchy if you plan on riding it in both directions, it essentially climbs from Glenorchy to the Springs (on Mt Wellington) and wouldn't be as much fun if you had to climb back.
{{#ratings}}
{{#editor}}
{{/editor}} {{#user}}
{{/user}}
{{/ratings}}
{{title}}
{{#ownerCreatedBlock}}
{{#owner}}
{{#url}} {{#avatarSrc}} {{/avatarSrc}} {{^avatarSrc}} {{& avatar}} {{/avatarSrc}} {{name}} {{/url}} {{^url}} {{#avatar}} {{& avatar}} {{/avatar}} {{name}} {{/url}}
{{/owner}} {{#created}}

{{created}}

{{/created}}
{{/ownerCreatedBlock}} {{#category}}
Category:
{{category.title}}
{{/category}}
{{#fields}}
{{#showLabel}}
{{label}}:
{{/showLabel}}
{{& text}}
{{/fields}}