10 results - showing 1 - 10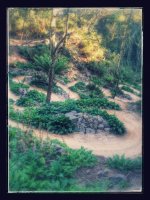 Key Statistics
Distance
Various (this route describes a 20km trail)
The Blue Derby trails currently consist of 40+ kms of custom built single track with the trailhead smack bang in the middle of Derby. The riding is exquisite, and the scenery is better. Made up of a network of fourteen (at last count) named trails, these trails take you through beautiful forests and up and down amazing switchbacks and sweeping berms. The bulk of the trails can actually be done in a single large loop, but one loop might not be enough. With lots more trails on the way, these trails are a must do on the itinerary of anyone coming to Tasmania to ride.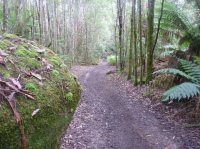 Also called the OC track in some guides, this is one of the 'old school' trails in the Blue Tier area.  The actual track is 7kms of beautiful, but sometimes rough and rutted, trail dropping 450 metres from Jubilee Hill down to the bottom of the Weldborough Pass near Moorina.  It passes through beautiful forest, but you might not notice that so much as you enjoy the sweeping, sometimes plunging, descents as you navigate your way over the many little obstacles on the way.  Even me, who doesn't like doing the same trail twice in the same year, would be happy for someone to give me a lift back up to the top for a second go at this one.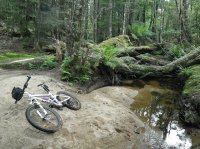 One of the original mountain biking trails in the Blue Tier area (and now largely superceded by the new Blue Tier trail built as part of the Blue Derby network) you can ride the Blue Tier descent in several different ways, but at its heart the descent consists of 11km of old school technical trails connecting the deserted town of Poimena and Weldborough
The trail isn't for the faint hearted, and inexperienced, but those who have a good level of riding skills will find some great technical riding amongst some beautiful forest and heathlands.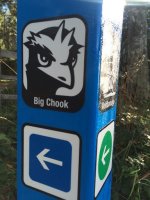 The Big Chook is one of the trails making up the Weldborough section of the Blue Derby Network.  It follows the old Blue Tier Descent route up from Weldborough for the first 3kms and then turns off and what follows is one of the most awesome sections of trail in Tasmania.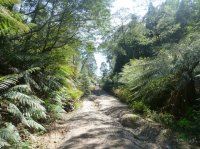 Thanks to the efforts of the Cradle Coast Mountain Bike Club, many of the old forestry trails in the Dial Range have now been stitched together with some singletrack sections to provide a wonderful, but still infrequently ridden, world of climbing and descending.   The route described here follows the sections of
the Cranky Penguin race
that are open outside of the race event (also see the
Penguin MTB Park
) and while I'd
recommend the race
as a great time to ride these trails (and enjoy sections not open during the rest of the year), it can be really enjoyable to explore these trails and forests at a more leisurely pace as well.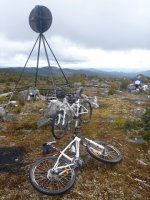 This route heads out from Derby to the top of Rattler Hill, before heading back down again on some crazy steep descents, flowing trails and challenging single track.  The best time to ride this route is as part of the Blue Dragon Race when the trails are well marked and cleared, but for those who want to take it at a more leisurely pace, anytime of year is good to ride this trail.  This ride is challenging and you'll climb a total of 1,600 metres (broken up in many stages) over its 53kms, but it is worth it, with great riding, lovely forest and river sections, a possible detour out to Mount Paris Dam and great views from the top of Rattlers Hill as its reward.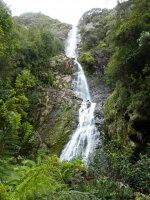 Key Statistics
Distance
55km (shorter options possible)
If you're heading over to the West Coast, then this would have to be the number one ride on your agenda.  The route follows an old railway line through some beautiful forests to the 114m Montezuma Falls.  The route can be broken into a number of sections from a short (11km) out and back ride along a gentle, easy to ride trail from the Northern end of the track though to a 55km out and back epic starting and ending in Zeehan.

The core of the ride is the 14km section (each way) from Melba Flats to Montezuma Falls where you'll get to play in the mud, race 4WD's, plunge through deep washouts and really get some serious mountain biking in.  Finally, for the well prepared and adventurous the final 8kms from Melba Flats to Zeehan crosses through button grass plains providing expansive views which you'll have plenty of time to enjoy as you push, bash and swim your bike along what was once a railway line.
With 20kms of dedicated mountain bike trails, plus a skills area featuring Australia's biggest pump track and a jump track, Hollybank, just 20 minutes outside of Launceston, offers a lot for mountain bikers in Tasmania.  

Hollybank offers a 4.5km easy 'green' trail which basically circles the reserve, and off this there is another 3.6km intermediate 'blue' grade circuit.  Finally, for those who are really here to ride, there's a 10km descent (the Juggernaut) with the option of the double-black diamond "Ginger Ridge" and "Reverb" tracks near the top.  

Juggernaut is unlike anything else we've got to ride in Tasmania at the moment, and for those who can put a shuffle together and who like rollers, jumps, drops, rocks and their downhill fun then they are going to find this track their own little bit of paradise. Note: LMBC have advised that the Juggernaut trail is closed from June 4 2018 to late winter/early spring due to logging in nearby coupes.  For updates see the LMBC facebook page.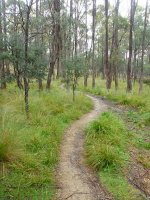 Key Statistics
Distance
16km (out and back)
Hidden away in the hills above Launceston, The Trevallyn Nature Recreation Area now has one of the newest and nicest sections of purpose built single track in Tasmania.   With 8kms of dedicated single track stretching from the Gorge Road to the Hoo Hoo hut, this is where you're inevitably going to start any play in the park, however if you're a little more adventurous and have a little more time, then don't overlook the other multiple use trails in the reserve.  There's kilometres of trails out there for those looking for a more old school Tasmanian experience.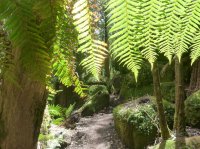 The Atlas trail sits out from the rest of the Blue Derby trails and deserves trail notes all of its own.  Billed as a white-knuckle roller coaster ride, it is one heck of a track and worth the effort of riding it (just don't think that it's all downhill).  You can ride Atlas as part of a loop, organise a commercial shuttle through
Vertigo MTB
(I've done this option and highly recommend it) or organise your own shuttle.  These trail notes are written to help you with all these options.
10 results - showing 1 - 10