Queenstown - Mt Owen Trail Network
Queenstown - Mt Owen Trail Network
Featured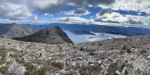 Key Statistics
Time (hrs)
1-6 hours depending on options
Last Visited
January 09, 2022
Location
Where
Headley Faulls Park, Queenstown (Trailhead)
The Queenstown Mt Owen Trail Network is designed to be shuttled, and while you can can play around in the foothills without doing so, you can't really enjoy (or even get onto) the real trails in this area without makng use of the shuttle - and it is worth it.  Just the view along on a clear day across to Mt Owen from the shuttle point is enough to bring a smile to your face, but commit to a couple of down hill runs and you will have an awesome day.  Does require a decent bike and skills to match to really appreciate these trails. 
GETTING THERE
The Trail Head for these trails is actually in the centre of Queenstown at Headley Faulls Park, with the shuttle leaving from the Cutten Street side of the park and you will find toilets, bike cleaning station and trail maps here.  Even if just planning on riding some of the lower green and blue trails that don't require shuttling, you can't actually park on Tramway Street where they come out (there's literally signs saying you can't) so either park in town and ride out or the closest parking is near the SES Queenstown Unit (near the SUV dump point) which is a couple of hundred metres further along the road from the turn off to Tramway Steeet heading towards Queenstown.  If you park here it is worth a quick spin around the famous Queenstown Gravel oval which is straight across the footbridge.
ROUTE OPTIONS
To really enjoy these trails, you need to do a shuttle, and I think the sweet spot is the half day(two shuttle) package which allows you to first head across the Chamouni Traversei and the Summit Loop to enjoy the views over Lake Burbury before deciding whether to head down the North Owen Descent (black run) or The Long Spur (blue-black run) where the shuttle will be waiting for you at the bottom to take you back up for a run down The Waterfall Track, or for the truly skilled, down Natural Selection.
By the time I had done these two runs, I was happy to call it a day and head off for other adventures.
For those who have an extra afternoon or morning to kill, or are looking for something less technical to ride, riding the Ready Orr Not and Welcome to Queenstown loops will get the lungs and legs pumping on the way up (but is all ridable by moderately fit riders) and then you'll have great fun on the way back down.   You can then add in the Sticht Up and Sledge Track loop onto either this trail (recommended) or you could add them when coming off The Waterfall Track - though I'd only recommend this for the fitter riders. 
Conglomerate Creek (green route) is a short little out and back ride half way down Welcome to Queenstown which you can take or leave.
WARNINGS
I had reasonable moble reception (Telstra) the whole way around, but it got pretty thin on some sections of the Waterfall track, so just be careful and follow all the usual common sense rules of mountain biking.
There are some tricky rock sections and drops in these trails, so just stay alert.  I did see some families head down Waterfall and I don't think they knew what they were getting themselves into.
Map
Editor review
Scenic/cultural/historical value
4.5
Review
Updates
Hit a nice day and these are magnificent trails, unlike anything else available in Tasmania. It's worth the trip to the West Coast.
Would you recommend?

User reviews
There are no user reviews for this listing.
Resources
Official Site
Commercial Providers
Official (and only) shuttle service for the Mt Owen Trails
{{#ratings}}
{{#editor}}
{{/editor}} {{#user}}
{{/user}}
{{/ratings}}
{{title}}
{{#ownerCreatedBlock}}
{{#owner}}
{{#url}} {{#avatarSrc}} {{/avatarSrc}} {{^avatarSrc}} {{& avatar}} {{/avatarSrc}} {{name}} {{/url}} {{^url}} {{#avatar}} {{& avatar}} {{/avatar}} {{name}} {{/url}}
{{/owner}} {{#created}}

{{created}}

{{/created}}
{{/ownerCreatedBlock}} {{#category}}
Category:
{{category.title}}
{{/category}}
{{#fields}}
{{#showLabel}}
{{label}}:
{{/showLabel}}
{{& text}}
{{/fields}}