Review Detail
4.0
2
0.5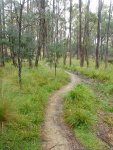 Scenic/cultural/historical value
3.0
Review
Updates
the trevallyn reserve is a awesome mtb park for all skill levels.
there are some new trails that follow along the road down to the hut that familys can enjoy but if your like me you will be smashing it along there and really be getting up some speed. great fun.
the big downhill trail is very rocky and sketchy in spots but still rideable and fun.
lots and lots to explore so just go for it.
awesome park because you can always keep it fresh by starting from a different point and going a different way back.

Would you recommend?

Comments