Review Detail
4.0
2
0.5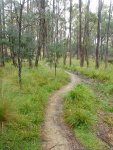 Scenic/cultural/historical value
4.0
Review
Updates
Went here for the first time this week and loved it! I really appreciated my full suspension and grippy new tyres as there are a lot of rocky climbs and descents to keep the heart rate up and the fun factor higher.
I grew up riding the flowy natural single tracks in the Essex (UK) forests and woodlands so I always appriciate a bit of flowing XC and this place has that in spades, along with some techy sections that should keep even the most die hard rider happy.
It has a decent amount of signage so getting lost and back tracking isn't an issue, in fact once you are at a trailhead you really can't go wrong. I put together a 22.4km loop where the only trail I did twice was the Peppermint track and that was just to finish off the ride with a final easy, flowy bit of riding.
All in all I'd say it's definately worth a visit for the travelling MTB-er (I came down from Ulverstone) and I'll def be back, hope to see you there!
Would you recommend?

Comments