Stubbs Road (Turners Beach)
Stubbs Road (Turners Beach)
Hot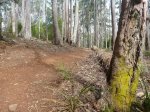 Key Statistics
Distance
Variable (10-25km)
Last Visited
September 22, 2012
Land Tenure
Private Land (Access Permitted)
This route ties together some very easy cycling along the Ulverstone to Turners Beach cycleway and nearby backroads with the chance to go play on some pretty darn good singletrack in a mountain bike park on private land off Stubbs Road.  Some may wish to just do one or the other, but combined they make an enjoyable ride … Allowing you to stretch both your legs and your skills.
GETTING THERE
This route starts at the Turners Beach car park (where there is a public toilet and change room).

To get there from Devonport or the south just get out onto the A1 highway heading to Burnie and about 10kms out of Devonport (depending from where you measure it) you will cross the Forth River Estuary (you can't miss it).

About a kilometre past here you will see the signed exit to Turners Beach on your left. Turn onto this and then about 400 metres off the highway you will come to a T junction, turn left (again signed to Turners Beach), then 150 metres later take the first exit (left) at the roundabout to cross over the highway and head into the township.  500 Metres from this roundabout you can pull off into the small car park next to the service station.  The toilets and change room are in front of you, and there's a short 50 metre walk down to the beach.

If coming from the North, travel past Ulverstone and look out for the exit (on your left) to Turners Beach and Cradle Mountain, take this off ramp and when you get to the roundabout (300 metres), take the first exit and proceed straight ahead down Turners Beach Road to the car park which is just in front of you.

Look inland from here and the eucalypt covered hill you see about a kilometre away is the Stubbs Road Mountain Bike Park.
FACILITIES & SERVICES
There is a public toilet and change room at the nominated car park.

If you continue down Turners Beach Esplanade there is a newsagent and coffee shop down the end which seems pretty popular.   There are at least two good bike shops in Devonport.
ROUTE OPTIONS
As noted in the introduction, this is really two rides in one.

If you really just want to ride trail, then it might make sense to just drive straight down to Stubbs Road (although there is limited parking down there). 

Alternatively, if you're just looking for somewhere to go for a short ride with young kids then the ride out and back from Turners Beach to Ulverstone is a good option that would give the young one's a great chance to play. 

Combined, the two rides make a good warm up (and warm down) with some great trails in between.

Once in the mountain bike park there are so many trails it would be impossible to even begin to describe a route and some may want to ride the good ones multiple times.  We spent an hour there and probably rode about 6-8km of track.  It will be up to you.
WARNINGS
The Stubbs Road trails are on private land, and there is a no entry sign (Cradle Coast Water) at the main entrance. 

This site is however used for club rides and events for the Cradle Coast Mountain Bike Club, and they have advised that riders that follow the mountain biking code are welcome to ride the trails. 

I would advise only going here for club event days or if you're with a local who knows the trails.  If you do go alone, treat the trails with the greatest respect, and if I hear any negative stories this ride will disappear from the site.
ROUTE DESCRIPTION
From Turners Beach carpark, head back along the road (Turners Beach Road) that you drove in on, crossing a railway line about 200 metres from your car.

Note: If you just want to ride the Turners Beach to Ulverstone trail, then as you cross the railway line look for the concrete bike path heading off to the right and just follow this to Ulverstone or as far as you want.

Otherwise continue over the railway line, through the roundabout and over the overpass to a second roundabout.

Take the third exit (right) onto Westella Drive and continue for another kilometre through a third roundabout until you get to Stubbs Rd.  Turn left onto Stubbs Road and proceed for another 800 metres until you get just onto the outskirts of town, and you'll see a gravel track heading up hill to your left with a gate and a cradle water sign on it (2.3km from the start).  There's a bike entrance just to the right of this gate. 

From here, you really need to just explore, but to get you started I'd recommend cycling up the gravel road to the fenced off water storage on top of the hill and use that as a reference point as you explore the park. 

If you continue around the northern side of the reservoir and keep a keen eye out to the left you'll see a trail head onto a gorgeous bit of single track that switchbacks down the hill before rejoining the road you just came up.  Alternatively, continue around to the south eastern corner of water tank and you'll find another trail head (initially running parallel to a gravel track) which will take you right around the park and back to the water reservoir.

These two trails combined probably will give you a good perspective on the park and from there just go and explore all the trails you missed the first time ... Although you could be there a long time.  There are quite a few washed out and eroding tracks, so do use your common sense in choosing where to ride and exercise the trail riding code.

Once you've had enough of the park, head back out the way you came in and retrace your steps along the road back onto Westella Drive.  Turn left onto Westella Drive and follow this road as it parallels the highway towards Ulverstone. 2.2kms down this road, turn right at the T junction and head under the highway to the roundabout, take the first exit to the left (towards the Town Centre) and continue another 800 metres until you see the turn off onto the tourist drive on to your right (Buttons Avenue). 

Head down here until the end ofthis road (500 metres), turn right onto Beach Road and follow this back until near the end where you will see the start of the cycleway (700 metres) which you can then just follow back into Turners Beach.

All up the ride from Stubbs Road back to the start via this route is just under 10kms.
Map
Editor review
Scenic/cultural/historical value
3.5
User reviews
Scenic/cultural/historical value
Scenic/cultural/historical value
3.0
Needs a clean up but lots of fun and lits to explore.
Review
Updates
Fun twisty single track route that makes the most of the area it's on. After a steep up hill climb you come to the top of the trails. The pond track had some nice flowing sections as well as some fairly steep climbs. The face track offers 3km of more flowing sections, some bumpy descents and more climbing to keep you fit.
There are also lots of other shorter routes and variations of ways about this area, so a few slower, exploratory rides would pay dividends.
Only downside to this trail is the amount of debris on the tracks and trails due to its exposure to every storm that graces the North coast. That said, an afternoon with a rack and your iPod at the end of the windy season would see this trail back to perfection again. As with the other local trails, this was made and is maintained by volunteers from the Cradle Coast MTB club so a huge thank you goes out to them all.
Would you recommend?

Resources
Other Resources
Cradle Coast Mountain Bike Club regularly organise races around Stubbs Road MTB Park, and these are a great way to learn the trails
Blogs, Articles etc.
My last visit to Stubbs Road
{{#ratings}}
{{#editor}}
{{/editor}} {{#user}}
{{/user}}
{{/ratings}}
{{title}}
{{#ownerCreatedBlock}}
{{#owner}}
{{#url}} {{#avatarSrc}} {{/avatarSrc}} {{^avatarSrc}} {{& avatar}} {{/avatarSrc}} {{name}} {{/url}} {{^url}} {{#avatar}} {{& avatar}} {{/avatar}} {{name}} {{/url}}
{{/owner}} {{#created}}

{{created}}

{{/created}}
{{/ownerCreatedBlock}} {{#category}}
Category:
{{category.title}}
{{/category}}
{{#fields}}
{{#showLabel}}
{{label}}:
{{/showLabel}}
{{& text}}
{{/fields}}