North East Rail Trail
Hot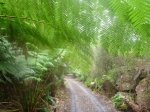 Key Statistics
Last Visited
November 27, 2015
Land Tenure
State Forest
Local Government
This 26km rail trail follows an abandoned railway line between Scottsdale and Billycock Hill weaving its way through lovely farmland and a bit of Scottsdale industry for the first 10kms and then some amazing cuttings and forests as it winds its way up Billycock Hill for the final 16km. With occasional glimpses out over the valley below, and a bit of well interpreted history lying on the side of the track this trail makes a great ride from those just looking to do a few kilometres with the kids through to those willing to tackle the full length out and back.
GETTING THERE
This route can be accessed from both ends (and many spots in between) but for most riders the best place to start is in Scottsdale. The exceptions to this are if you are just doing it one way (in which case start at the top of Billycock Hill) or if you are only planning on doing a shorter section and really want to enjoy the railway cuttings, in which case start at the Tonganah Station allowing you to ride uphill towards Kamona Station as this section has the most spectacular cuttings and scenic forest sections.
The official start in Scottsdale is at the Scottsdale Rail Station accessed via a driveway off Ellenor Street between the Mitre 10 Store and the railway crossing on the road.  It is worth finding your way here as there is a good trail map which supplements these trail notes.
Another option, especially if you are looking to hire a bike for the trail, is to start from Scottsdale Art Gallery Coffee Shop on King Street, which is the road you come in on if you are coming into Scottsdale from Launceston via the A3.  You will cross the railway line as you come into town, and you will see the Art Gallery Coffee Shop and Bike Hire sign,  You can just pull in and start the trail there.
If you want to start at Tonganah, from Scottsdale, head towards the East Coast (signed towards Derby/St Helens/Scamander) on the A3 highway.  7kms out of town you will see a signed junction to the Rail Trail (and Cuckoo Falls) on the right (Tonganah Road).  This is the Tonganah (Western) end of the junction.  If you drive 400 metres down this road you will see a signed car park on the left hand side of the road, just before crossing the railway.  Park your car just off the road and prepare for the ride.
The other end of the ride currently starts 18km from Scottsdale along the A3.  The best place to park is in the large car park on your left, just before you see the Billycock Hill Sign.  
If coming from the East Coast, then the Billycock Hill car park turnoff is just over 7km past the river crossing in Branxholm, 3kms past the turn off to Legerwood/Ringarooma.
ROUTE OPTIONS
The rail trail can be ridden as an out and back and this is my recommended option.  
The railway line runs mostly downhill from Billycock Hill to Tonganah (West) losing about 250 metres in height so if you can organise a shuffle and can just ride it one way, this is the way to go.  Do note, that from Tonganah to Scottsdale is however mostly uphill again, gaining about 100 metres in altitude over the 10kms, a barely noticeable incline for most riders.
I have also shown some alternative ride options for those looking to mix it up, which, while not covered in the route notes, can be downloaded into google earth or you GPS if you are interested in exploring some more adventurous and challenging riding.  This includes an option I've become aware of, but which I haven't ridden, which is to head  from Tonganah Station up onto the Cuckoo Hill Road which you can follow to Moona Road (though signed Tuleendena 1 on the actual road) and follow out to the Tuleendena Siding before heading back down the rail trail.  This route has some nice sections, but also lots of climbing (disclaimer: I have driven this route, but not ridden it).  I have shown this route as a pink line on the map. You can also download this track to follow from the downloads tab.
Finally, an option you might not have thought of:   I actually last set off and did the ride as an evening ride, so I rode out in the light, and rode the last half of the trail back in the dark.  With good lights (and warm clothes) this was a brilliant ride as I got to enjoy all sorts of wildlife on my way back.  Be careful of wallabies bolting out under your front wheel though.
In case it crosses your mind, you can ride down Snake Track to Legerwood from the top of Billycock Hill, but the road is awfully rutted, and there are no shops or cafes (that I could find) at Legerwood.


FACILITIES
Scottsdale now has a bike shop and bike hire (see Related Items tab) although opening times (especially on weekends may be limited).  It also has pretty much everything else you need - cafe's, a Woolworths supermarket, art galleries, pubs, accommodation, bakeries, free camping etc. etc.
Once you leave Scottsdale however, there is pretty much nothing in the way of services so be independent and pack food and something to drink if doing the whole trip.
WARNINGS
For those who have read my previous warnings about the trail surface - you can forget them all.  It is now a divine (hard smooth gravel) riding surface suitable for mountain bikes and gravel grinders.  I still wouldn't take my road bike on the trail though unless I had some slightly thicker tyres.
If you are thinking of taking kids along here I would strongly recommend either just riding a short section or doing a one way ride downhill.  Also be aware that several of the road crossings will have vehicles travelling at 100km/hr and that there are exposed rails on these crossings which could trip young kids up.
I wouldn't rely on mobile reception in this area.  I found my telstra reception was a bit dicey beyond Tonganah.
ROUTE DESCRIPTION
Starting from the official Scottsdale Rail Station car park, just head south along the rail trail (so back out the way you drove into the carpark and away from the big green shed) and then carefully cross Ellenor Street and King Street (0.5km from start, and this is where you'll start if hiring a bike) before heading out of town.
The next 5kms will see you descending (mainly) through farmland and a few rail cuttings, with  a few minor road crossings before you cross the Tasman Highway at about 5.5kms from the start.  The next section is more industrial as you pass behind some big sheds and wood yards near Ling Siding and then you'll ride parallel to the road through scrubby bushland for a couple of kilometres.
About 9kms from the start, you will again cross the Tasman Highway before completing the final kilometre to the Tonganah station car park.  This section includes a lovely little bridge crossing.  You have lost about 90 metres in altitude from Scottsdale to the Tonganah car park.
You will cross a gravel road here just before the car park, and although you will see the carpark on your left, you just continue up the rail trail.  Be cautious here as just past the car park you will see what looks like a road heading off to your right with a sign saying "Emergency Vehicles only".  You actually want to turn right off the rail line and head up this road (if you accidentally keep going along the rail line, the surface gets very rough, very quickly as this is just an old spur).
After about 800 metres from the Tonganah station you will come out at a big dam, and the route carries on around the dam in a clockwise direction.  There is an interpretive sign just past the dam and be careful to take the right hand junction continuing around the dam at this point.  About 10.5kms from the start you will come out into an open area on the eastern most edge of the dam.  
From here the signed rail trail heads up a very short (20m) climb to get onto the old railway line again, but be careful just before this as there are tracks heading off to both the left and right of this which you could accidentally take if the sign is removed.  The rail trail is very obvious once you are on it.
Once on this section of the rail trail, just continue on the rail trail as far as you want or all the way to the top of Billycock Hill.  For my money, the section leading up to, and a few kilometres beyond, Trewalla Siding (so from about 14kms to 18kms) is gorgeous - lots of ferns over the track and some gorgeous deep cuttings to ride through.  
At the end of the trail, you can either stop at the top of Billycock Hill and carefully cross the highway into the big carpark on the other side to enjoy the views, or you can continue a little further along the rail trail to Snake Track Road which leads down to Legerwood.  Just in case you see the trail continuing on across Snake Track Road and are curious how far you can get, it is currently barricaded about 200 metres further on.
At Snake Track Road, the signed trail heads back the way you've come and once on the trail there are very few places you can go wrong on your way back to the car. 
The one exception to this is the emergency exit just west of Kamona Station (about 6kms back along the trail) where, if travelling at speed, you can find yourself missing the left hand fork that keeps you on the rail trail and hurtling down an unexpected hill (obviously you shouldn't go to far wrong as this should ring some alarm bells).  
There are regular distance signs (probably every 3kms) along the trail telling you how far it is to either end.
Map
Editor review
Rambler's Review
(Updated: November 29, 2015)
Scenic/cultural/historical value
4.5
Review
Updates
This trail is now on par with the Lilydale-Warburton rail trail in my opinion, maybe even better in some ways. I had a low opinion of it in the earlier years due to a rough surface and ending at Tonganah, but with the Scottsdale link, improved surface and with the trackside vegetation coming back strongly - it's gorgeous, and it's a winner.
Would you recommend?

User reviews
Scenic/cultural/historical value
Scenic/cultural/historical value
4.0
Check that construction of the track has been completed before making the drive out to this track. I've still rated this trail high as it will be a wonderful fun family track through beautiful scenary when the surface has been finished. Quite a challenging ride back via the Highway to the car (not suitable for kids due to busy steep road) but they waited at the bottom for a pick up. Once the track is finished it shouldn't be a difficult ride back up hill as the gradient is gentle.
Review
Updates
This will be a wonderful ride once the trail is completed. We rode this 17 Sep 12 starting from Tuleendena as recommended here. While not clearly marked "closed for construction" it clearly is not yet supposed to be riden on. We "rode" & walked 13.6 km to the on very rocky gravel which was very hard to ride & walk on. We kept on thinking "it has to improve" but it didn't. At the other end it became clear the track is "closed".
Resources
Official Site
The official facebook page for the North East Rail Trail
Other Resources
Another good site for information on the trail
Blogs, Articles etc.
My first visit to the rail trail (before it was upgraded)
Riding the trail in the rain ...
{{#ratings}}
{{#editor}}
{{/editor}} {{#user}}
{{/user}}
{{/ratings}}
{{title}}
{{#ownerCreatedBlock}}
{{#owner}}
{{#url}} {{#avatarSrc}} {{/avatarSrc}} {{^avatarSrc}} {{& avatar}} {{/avatarSrc}} {{name}} {{/url}} {{^url}} {{#avatar}} {{& avatar}} {{/avatar}} {{name}} {{/url}}
{{/owner}} {{#created}}

{{created}}

{{/created}}
{{/ownerCreatedBlock}} {{#category}}
Category:
{{category.title}}
{{/category}}
{{#fields}}
{{#showLabel}}
{{label}}:
{{/showLabel}}
{{& text}}
{{/fields}}