Risdon Vale Trails and Bike Park
Risdon Vale Trails and Bike Park
Hot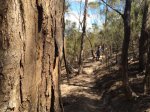 Key Statistics
Time (hrs)
Varies (an hour or two)
Last Visited
April 28, 2019
Location
Where
Risdon Vale Sports Ground (Car Park)
The Risdon Vale Trail is a short 2km XC loop built as part of a local initiative by the Risdon Vale Bike Collective and Blue Hill Trails. As it was built by young locals (under the guidance of a professional trail builder) it is a pretty solid achievement.  Time has taken it's toll however, and this is probably more a trail for local riders looking for some new trails or, rather than interstate or visiting riders. The Bike Park is pretty impressive and incorporates dirt jumps and a pump track 


GETTING THERE
The best way to get onto this track is to head to the Risdon Vale Sports Grounds.
Unless you're a local coming from Risdon Vale or entering via the back way (ie. turning off from Geilston Bay and coming in from the south via Sugarloaf Road) most people will enter Risdon Vale by turning into the northern end of Sugarloaf Road from Grasstree Hill Road (the signed entrance into Risdon Vale). As soon as you turn into Risdon Vale from this direction, you'll see fushia road on your right (50m down the road) and almost directly across from that on your left, you will see a gated track heading off the road just past the last house. This is the easiest entrance onto the Risdon Vale tracks, so you will ride back to here.
If you're in your car, it is easiest to continue along Sugarloaf Road for another 250 metres and then park in the Risdon Vale Sports Ground Car Park which you'll see on your left. There's plenty of parking here and the Risdon Vale Bike Park is just on the other side of the oval if you want to have a play there.
FACILITIES
You're still in suburbia, and I noticed a few shops nearby and there is a public toilet at the sports ground, although I didn't check it out.
The nearest full service bike shops would either be The Bike Shop in Glenorchy or Ride Bellerive.
ROUTE OPTIONS
The Risdon Vale bike track is designed to be ridden in an anti-clockwise direction, and it's the sort of loop you'd come and ride two or three times.  You could also include it as part of a longer loop eg. Park in Geilston Bay and do a series of loops covering Pilchers Hill and Caves Hill, then head over to Risdon Vale to pick up these tracks and return via Risdon and the trails through Government Hills.  I've also parked at Risdon Brook Dam, had an easy loop around the dam and then ridden down here and had a ride around these trails as well.
The Risdon Vale Bike Park is just on the other side of the oval and so could be a place to have a play either before or after your ride.


WARNINGS
There were quite a few motor bike riders using local trails when I rode it, so keep your eyes open for other users. There are also a few unexpected twists, drops and turns which could surprise beginner riders if taken at speed so take advantage of the shortness of this trail and maybe ride it fairly slow the first time.
When I last rode this trail it wasn't getting much use, there were drainage and litter problems and so it may be hard to follow the first time through (no obvious ride line).
ROUTE DETAILS
From the Risdon Vale Sports Ground just ride back along Sugarloaf Road until you get to the start of the track (250 metres).
The start of the track is unsigned, but it is a good quality trail and there is a low metal gate with a red bar at the start. About 50 metres along this trail you will see the end of the loop track coming back in on your left. This is just before dropping down and crossing a small creek on a well built rock bridge.
Once across the creek, there's a big blue gate on your right (ignore this, I just mention it for reference) and just continue following the obvious gravel trail that climbs up the hill behind the houses. There are quite a few tracks heading off this trail - some being old alignments and others being quite significant tracks - but just stay on the main trail with the houses on your right and you'll be fine.
It's worth casting an eye out to your left across the creek as you climb this hill as you'll see the return section of trail not far away. This can come in handy for orientation on the way down.
About 800 metres from the start, the fence you've had on your right disappears and the main fire trail heads off at ninety degrees to your right. Ignore this and follow the less distinct trail that goes straight ahead into the trees. Follow this track for another 200 metres, as it continues up a small gully, until you see the single track heading off on your left and going back down the way you've just come up. All up you'll have gained 60-70 metres in height over the 1km ride up.
Note: For the crrious, the track you're on continues on up the gully up for another couple of hundred metres and then just peters out and dead ends. 
From here, just turn your wheels downhill and enjoy. The track has a few small jumps and drops in it which can take you by surprise and about 150 metres down the track divides into an easy and hard(ish) section for a very short distance (these junctions were signed, but on my most recent visit the signs were gone so keep your eyes peeled). Where these rejoin there is a second easy/hard section with the hard section being a decent little couple of steep descents (again - not signed when I last visited and very easy to miss).
About 450 metres from the top, you also come out into a bit of an open section where the new single track ends and you have to follow old tracks for a short distance. There does appear to be a few options here, but you should be able to follow the line as it continues pretty much straight ahead (if on the easy route), crosses a large trail, and then splits off the 4WD tracks onto another new section of singletrail on the right.  This diversion on the single trail is now really easy to miss, but don't get stressed the first time if you don't know which way to go as you will soon figure it out as most of the trails don't go anywhere and you will know once you've found the single-trail.
From there, it's just a case of follow the single trail to the bottom of the loop and enjoy the skills of those that built the trail.
It's definitely worth doing the loop at least twice as it is much more fun when you know what to expect the second time.
Map
Editor review
Scenic/cultural/historical value
2.5
User reviews
There are no user reviews for this listing.
Resources
{{#ratings}}
{{#editor}}
{{/editor}} {{#user}}
{{/user}}
{{/ratings}}
{{title}}
{{#ownerCreatedBlock}}
{{#owner}}
{{#url}} {{#avatarSrc}} {{/avatarSrc}} {{^avatarSrc}} {{& avatar}} {{/avatarSrc}} {{name}} {{/url}} {{^url}} {{#avatar}} {{& avatar}} {{/avatar}} {{name}} {{/url}}
{{/owner}} {{#created}}

{{created}}

{{/created}}
{{/ownerCreatedBlock}} {{#category}}
Category:
{{category.title}}
{{/category}}
{{#fields}}
{{#showLabel}}
{{label}}:
{{/showLabel}}
{{& text}}
{{/fields}}