Adamsfield Circuit (Sawback Range)
Adamsfield Circuit (Sawback Range)
Hot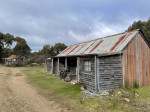 Key Statistics
Last Visited
July 02, 2022
Land Tenure
State Forest
National Park, Reserve
This ride follows an old 4WD track over the back of the Saw Back Range to the old mining town of Adamsfield and then back out again along Clear View Road.
It combines some fun, technical riding (and yes, a bit of pushing) as you climb up and descend along saw back track to Adamsfield, then you can enjoy a bit of fossicking before a much easier return route via Clear Hill Road.  Great ride for an eMTB.
GETTING THERE
The start of this track is roughly 120kms, (1.45 – 2hrs drive) from Hobart.  Head out from Hobart through New Norfolk and on towards Mt Field National Park / Lake Pedder.
Maydena (85kms) from Hobart is the last place to stop for fuel and food (and even that can be iffy).  From Maydena it is another 32kms to the start of the track.  To find the start of the track, watch out for the signed turn off to your left to Scotts Peak Dam (@30kms).  Don't turn down here, but continue on towards Strathgordon and the start of the ride is a small gravewl road a further 1.5kms along the road on your right.  There is room for a couple of cars here, but make sure you don't block the access to the trail.
ROUTE OPTIONS
It is recommended that you ride this circuit in an anti-clockwise direction, even though it means the ride starts and ends with steep climbs.  An out and back along the Saw Back track may appeal to those who prefer the trails.
If you're wondering, it's not possible to link through to Timbs Track or Churchills Hut on a bike. The state of the track between the Florentine River and the quarries near Adamsfield don't exist (to the best of my knowledge).   
WARNINGS
This is a very remote area ride, there's no mobile coverage and very few users, so be safe and let someone know where you are and when you'll get back.  There are a couple of heritage shacks and a bit of a campground between Adamsfield and Clear View Road, but there's no guarantee that anyone will be home.
ROUTE DESCRIPTION
After getting your bike over the closed gate, the track is fairly flat for the first kilometre, but then quickly starts heading uphill through some fantastic myrtle forests. Unfortunately these same forests keep the trail pretty wet, and slippery, and rutted. The result being that most mortals will find themselves quickly pushing and riding their bike up onto the plateau. Good news the steep section is it's only about a kilometre, and there are some beautiful old myrtles to admire on the way as you catch your breathe.  It is all ridable on an ebike.
As you emerge out onto the plateau, you get to enjoy the beauty of Ibsens Peak and the Saw Back Range to your right as you continue onwards to the high point of the trail at about 5kms from the start. Just past the high point, you'll see "Welcome Rock" about 50 metres off to your left. There is an indistinct trail into this rock from its northern side, and it is a nice spot for a break and snack before heading onwards, or should I say downwards.
The next 6kms to the Adamsfield track junction are up and down (but more down than up), and there's a fairly steep section to start with which will be beyond novice riders, but it mellows the further you go (the track looks like it has been regraveled) , so don't despair if it all seems too hard at first.
Turn left when you come to Adamsfield track, and about 400 metres further along you'll come to a sign indicating you're in Adamsfield.
Side Trip Option: When you come to the T junction with Adamsfield track, you can turn right and then ride another approx 2.5 to 3.0km to the end of the tracks (so about a 5km to 6km out and back depending on how much exploring you do).  The track is pretty good (recently gravelled) and leads out to a coupe of old quarries and there's a spot at the end where you get a good view back over the area towards Lake Gordon.  You can't ride through to the florentine on bike (the track is fast returning to nature).  This detour is probably more effort that it's worth for most riders.
Once at Adamsfield, you can wander out along these tracks (best on foot) and see a few relics, but mostly you'll be imagining what was once there. From the Adamsfield site, continue down along the track for about 2.3km when you will come into a network of tracks, you basically want to follow the track that fords the creek on your left, where you'll emerge out into some shacks which may or may not be occupied.  This is a great spot for lunch, and then after that continue through this site and up the gravel road, where you should emerge out onto Clear View Road after about a kilometre. Turn left and follow the road.
Side Trip Option: For those with the legs (or an ebike), instead of immediately turning left onto Clear Hill Road, you can turn right and head downhill for about 350 metres to the bridge across Adams River.  If you cross the bridge you will see a small track heading off along the river to your left.  Leave your bike here and it is a short hike ( a couple of hundred metres) to a couple of pretty spectacular lookouts over Adams Falls and Lake Gordon.  Very exposed walk at the end though.  Once you've done this retrace your steps.
From here it's just over 17kms back out onto the Gordon River Road (and to be helpful there are distance signs every 2kms marking down the distance to go). The track undulates up and down alongside Lake Gordon and as the forests have recovered from logging it really is quite a beautiful area. Overall the riding is fairly quick, although it does really kick up in the last 2kms just before you come back out onto the main road. At the main road, turn left and continue climbing for another 1.3kms up past Boyds lookout, before a final fast run down to your car.
Map
Editor review
Scenic/cultural/historical value
3.5
A good fun track for experienced cyclists, but you need to be well prepared for emergencies.
Review
Would you recommend?

User reviews
Scenic/cultural/historical value
Scenic/cultural/historical value
4.0
Review
Updates
Did the recommended anticlockwise circuit (Saw Back Trail, Adamsfield, Clear Hill Road) on 19.03.2017 over five hours. Despite being very dry and hot for weeks earlier, mud holes were enormous and unavoidable due to the track being ripped up by 4WDers, water was everywhere. You will get very messy, but no big deal as it's just water on soft silt, charge right in!

The first pitch is not too bad, very scenic and damp, and then some up and down. Plateau is a lot of fun pumping up and down small rolling hills with stony/muddy pools at every drop. Some scrabbly descents are a bit iffy - I crashed on one and another was precipitous, with a nasty diagonal drop which I walked.

The roads near Adamsfield are blast and you really build up speed charging through small pools, really a lot of fun. We didn't find anything at Adamsfield itself, just an enormous field of ferns (we didn't visit mines) and had lunch at the excellent new shelter built near the huts.

Clear Hill road return is a mixed bag with very long exhilarating high speed downhills on a beautifully smooth pothole-free gravel road, and the two major climbs, which suck after a long tiring ride. My legs gave out at the final pitch and I walked the highway back up past Boyd lookout to the car, which was interminable and agonising.

Overall a fantastic, varied and challenging ride with plenty to see and do. I saw only about three good water sources, so bring plenty and of course emergency supplies (we had spare food, EPIRB, medkit etc) as there is no mobile signal and very few visitors.
Would you recommend?

Be prepared for mud, and fun!
Scenic/cultural/historical value
3.0
The track provides some enchanting views over the Florentine, and some beautiful riding through Myrtle forests. There are some very tough sections with lots of climbing, as well as some hairy descents. At least an intermediate skill level would be required, especially as it is very remote. Be prepared, it is very far from help!

A very fun and beautiful ride, though! Best in the dryer months, as the track holds a LOT of water!
Review
Would you recommend?

{{#ratings}}
{{#editor}}
{{/editor}} {{#user}}
{{/user}}
{{/ratings}}
{{title}}
{{#ownerCreatedBlock}}
{{#owner}}
{{#url}} {{#avatarSrc}} {{/avatarSrc}} {{^avatarSrc}} {{& avatar}} {{/avatarSrc}} {{name}} {{/url}} {{^url}} {{#avatar}} {{& avatar}} {{/avatar}} {{name}} {{/url}}
{{/owner}} {{#created}}

{{created}}

{{/created}}
{{/ownerCreatedBlock}} {{#category}}
Category:
{{category.title}}
{{/category}}
{{#fields}}
{{#showLabel}}
{{label}}:
{{/showLabel}}
{{& text}}
{{/fields}}