Review Detail
4.2
4
0.5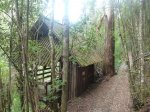 Scenic/cultural/historical value
4.0
Three of us did the following:
1. Rode up the road to the top of Juggernaut - it took us almost exactly an hour, and was fairly comfortable.

2. Rode down Juggernaut - the very top section has some technical rocky bits (including a wet rock slab on a sideways angle), after which is settles into a steady pattern of undulation + side to side + occasional very small rock drop. For intermediate riders, it certainly keeps you awake, and had two of us clipping out and putting a foot down from time to time. It's tiring because you never get to "flow" for very long - this might be better on a second ride.
The uphill rollers near the bottom seem to go on and on and are quite draining.
The second half of Tall Timbers was good fun, and flows beautifully down to the creek, and the switchbacks up are nicely spaced.

3. Did a full lap of Tall Timbers - brilliant track. Well built berms, great switchbacks, nice scenery. You can really attack it if you want.

4. Did a lap of No Sweat - maybe we went into this with the wrong attitude. Having already ridden 26km, this turned out to be hard work as two of us ran out of legs about halfway round.
The forest is beautiful, and the track design is lovely, though the loosish gravel surface means you can't drop concentration much.
This would be a lovely track if you're not already knackered!
Review
Updates
The road up has orange mountain bike signs at each intersection showing which way to go.
Would you recommend?

Comments