Review Detail
3.9
1
0.5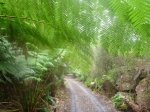 Scenic/cultural/historical value
4.0
Check that construction of the track has been completed before making the drive out to this track. I've still rated this trail high as it will be a wonderful fun family track through beautiful scenary when the surface has been finished. Quite a challenging ride back via the Highway to the car (not suitable for kids due to busy steep road) but they waited at the bottom for a pick up. Once the track is finished it shouldn't be a difficult ride back up hill as the gradient is gentle.
Review
Updates
This will be a wonderful ride once the trail is completed. We rode this 17 Sep 12 starting from Tuleendena as recommended here. While not clearly marked "closed for construction" it clearly is not yet supposed to be riden on. We "rode" & walked 13.6 km to the on very rocky gravel which was very hard to ride & walk on. We kept on thinking "it has to improve" but it didn't. At the other end it became clear the track is "closed".
Comments
1 results - showing 1 - 1
Thanks for the update Scott - looks like a lot of trail work has happened since I was up there and rode it (there were no track closed rides when I rode it). TBug and Rotary are doing a 'come and try it' ride along this on September 30. 2012, so hopefully it is getting closer to being finished, and I'd agree about your comments about Kids - I'd do a one way or out and back ride (starting at the bottom) if I had young kids with me. Great review.
1 results - showing 1 - 1