Review Detail
3.9
2
0.5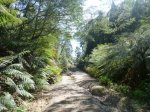 Scenic/cultural/historical value
3.5
Great route and fantastic directions. The descents were fantastic - fast and steep! Bailed out and had lunch before completing the second loop.
Review
Updates
Lots of land slips and logs over the track along the river. Had to carry the bike for a significant part of this section. Looks like work is being done on this section to improve this.
Would you recommend?

Comments