Review Detail
2.4
1
0.5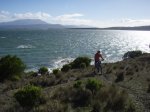 Tangara Trail Southern Loop
Scenic/cultural/historical value
2.5
I rode the Southern Loop (more or less) described here. It's a pleasant ride, and is a great option for anyone looking for a change from the gut-busting climbs and high-octane descents of the Meehan Range and South Hobart. The highlights are the Mortimer Bay Track (very nice) and the Storm Bay Track descent. In my opinion, having a mapping phone app (Orux Maps for Android is good) and using the GPX file provided on this website is essential for making the most of this ride. I would also recommend taking the detour mentioned towards the end of the Southern Loop route description, this ensures you avoid the busy Rifle Range Road and South Arm Road back to Lauderdale.
Review
Updates
I noticed one spot where the route description deviates slightly from the GPX route - in the short section between Deeprose Way and Mather Place the GPX route follows South Arm Road, whereas the route description goes off-road, it's no big issue though.

A suggested detour: Instead of riding along the beach at Ralphs Bay as described above, it is possible to take a sandy vehicular track behind the beach which takes you to the end of Palana Court. A new section of trail then connects from Palana Court to the foreshore track back to Mortimer Bay. This sandy vehicular track is on the right, about 600m along South Arm Road after leaving Goat Bluff lookout. The vehicular track goes over private land but there are no gates or signs.
Would you recommend?

Comments