Review Detail
3.9
2
0.5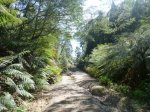 Scenic/cultural/historical value
4.0
The route described for the Dial Range is excellent. Demanding climbs combined with fast fun descents. There are three particularly enjoyable sections, the descent behind Mount Duncan (fast, "Endor Speeder Bike" style descent), Dial Creek Road (must be one of the better double-track descents in the state), and finally the trail next to the Leven River is beautiful. This area is under-rated as a mountain biking destination and deserves more attention. Future developments proposed by the Cradle Coast Mountain Biking Club will hopefully increase the status of this area.
Review
Updates
A few minor comments on Getting There and the Route Description:

Getting There: The signed turnoff to the Penguin Sports Centre reads: "Dial Regional Sports Centre", not "Regional Sports Centre".

Route Description: 100m or so after you start riding the Mount Duncan Walking Track (after leaving Ironcliffe Road) there will be a sign reading "Mount Duncan" which points to a walking track on your left. Ignore this track and continue straight ahead. If you are clever and use the GPX files provided, or are competent navigator (unlike me) you should be right.

[NB - These corrections have now been added to the trail notes - TassieRambler]
Would you recommend?

Comments