Review Detail
2.9
1
0.5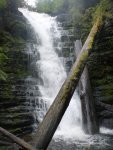 Scenic/cultural/historical value
2.5
There's a lot of forestry road slog in this route, but it's worth it to get out to the falls. The walking track is a little worn, and towards the end the markers are a bit hard to find - but the falls are spectacular (especially in winter!)

If you take the 4WD tracks along the river(s), you'll have a much different experience to taking the forestry roads (whether that is good or bad is up to you)! The 4WD tracks can have a lot of water, and there are at times some extended puddles you'll have to ride or wade. But, you do get a much more offroad ride, with some great side trips down to camping spots by the Huon River.
Review
Would you recommend?

Comments