Review Detail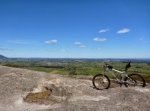 Scenic/cultural/historical value
3.5
Review
Would you recommend?

Comments
1 results - showing 1 - 1
I first hiked up Mt. Stronach more than 70 years ago and the last time would be 65 years.
I loved the author's description of the trail. While it is a different route to the one we used to take, it really brought back a lot of memories.That last dip to the summit is tough.
The only thing not mentioned is you can't rely on finding drinkable water.
Thank you for your report and I hope you have as much fun around Stronach as I had.
It doesn't seem like the snakes are any less either.
1 results - showing 1 - 1