Review Detail
4.1
5
0.5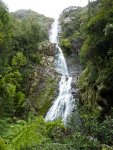 Montezuma in late October
Scenic/cultural/historical value
4.5
Review
Updates
The authors account of the ride from Melba Flats to the falls and from there to the Williamsford car park ( this is the section we rode) is right on the money. The initial climb is in no way what you'd call steep and easily managed and the multitude of muddy puddles and superb scenery make for an incredible experience. Of course there's plenty of guess work as to just how deep some of the puddles are but that just adds to the fun. We didn't ride through any that were deeper that half wheel height. The 6km descent from Ring Road is also great fun with plenty of fresh water creeks to negotiate (again not deep at all).The falls themselves are spectacular as is the sight of the suspension bridge when you finally arrive.
We parked at the Melba Flats but instead of returning back the way we came decided to take the highway back to the car. This is around a 20km ride from the Williamsford car park and is a real lung buster with steep inclines a plenty so this route should not be under-estimated especially after slogging it out for 20kms along the muddy tracks. We were very happy to finally catch sight of the car I have to say but what a ride.
Would you recommend?

Comments