Review Detail
3.5
3
0.5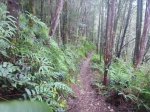 Scenic/cultural/historical value
4.0
This track was insane loved every minute of it the only problem being that the best section is to short! Did it three times in a row.... I was lucky that it had been very dry for a week prior to me riding the track so descending the technical sections was not to hard (29") The following day when I rode it again there had been a LIGHT rain over night which made the technical sections especially the rocky sections a whole other story!

If you like technical single tracks then I can highly recommend this track.

Rambler's directions I found very helpful because its not the easiest track to locate especially the start of the technical single track section, cheers
Review
Updates
Fair sized tree across track half way down needs chainsaw but you can scramble around it with bike. Other than that there are a few old branches and logs across track but nothing you can't ride over.

Watch out for snakes came to a sliding stop with a flaring tiger snake sunning its self in a beam of light right in the middle of the track!

Regard should be taken on last single track section after creek crossing as it looks as if it is more of a motorbike single track.
Would you recommend?

Comments