Review Detail
4.3
1
0.5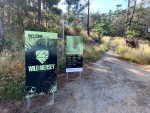 Scenic/cultural/historical value
4.0
Review
Updates
The new stage 1 Wild Mersey trails at Warrawee Reserve are a great kick off to the whole trail project.
The initial trails consist of a few of different loops to ride from a short green climb (Bee Line) and descent (Disco) to a longer loop (up Easy Does It and Bracken Track) with a choice of a green (Laughing Gear), blue (High Voltage) or black (No Mersey) descents. Then you can also add Quick Link/Big Bend/Sugar Coated to this loop to add another descent and still have the choice of the same three descents.
Of the three descents the green Laughing Gear, will probably be the favourite of all of them being fast and flowy, leaving a big grin by the time you reach the bottom. High Voltage is a berm filled and table top jump paradise, so if getting air is you fix you will love this trail. No Mersey is a more hand built looking trail with much narrower tread and steep tip in berms and a steeper gradient overall. It's not a nasty black but still enough to keep you on your toes.
With still a few more trails to be built to complete the Warrawee part of Wild Mersey it will be a great little riding area that you can spend a few hours exploring riding all the different options.
The link to Railton will start mid January and this should also be a great addidtion.
Would you recommend?

Comments