Review Detail
4.2
4
0.5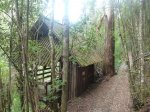 Scenic/cultural/historical value
0.5
Review
Updates
I took my kids on the No Sweat Trail. This is an excellent trail that is let down by substandard, misleading or non-existent signs, information, maps and directional information.

Check this out solo and get all the info before you take your family there so you can really get the best of this trail.


Would you recommend?

Comments